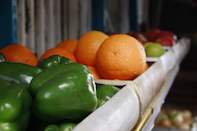 ©Marinda Louw
Undercover Farming started out as a magazine in 2004, after Johan Swiegers was flooded with requests for more information after publishing content in 2003 on greenhouse farming in his Nufarmer Africa publication, aimed at developing farmers.
Johan had close ties with Agricultural Research Council (ARC) researchers through his Nufarmer and SA Cotton publications, with the information about greenhouse production being sourced from the Ornamental and Vegetables Plants campus of the ARC. The SA Cotton Publication was later taken in-house by the SA Cotton producers association.
The launch of the Undercover Farming Magazine brought Johan in contact with local, Dutch, Belgian, British and Israeli suppliers and experts in greenhouse farming. He was also invited to attend the annual farmer days at Stellenbosch of the Association of Vegetables Under Production (AVUP) and received up to date technological information for the Undercover Farming magazine.
The unique name 'Undercover Farming' was immediately accepted by the industry and today is being used to denote 'farming with hydroponics in greenhouses' by local and international publications.
When the AVUP disbanded in 2007, Johan wanted to do something to keep participants in the greenhouse and shade net farming industry together. He achieved this by developing a platform, the Undercover Farming Expo and Conference, where input suppliers could exhibit the latest technology, and technical speakers from all over the world could inform delegates of the latest production trends.
His youngest daughter, Suzanne Oosthuizen, who at the time had already joined the Undercover Farming Magazine, assisted in organising the first Undercover Farming Expo and Conference, which was held in Pretoria in 2009. Its huge success resulted in the event branching out to the Western Cape.
Delegates and exhibitors were so appreciative of this initiative that the Undercover Farming Expo and Conference has turned into an annual event in Gauteng and the Western Cape, with Suzanne heading the total organization and marketing of the Undercover Farming Magazine and Undercover Farming Conferences.
Many different ways of farming are used in South Africa, ranging from intensive to extensive and free-range, conventional to organic, biodynamic and regenerative....
more