Many different ways of farming are used in South Africa, ranging from intensive to extensive and free-range, conventional to organic, biodynamic and regenerative.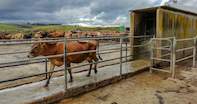 ©Chris Daly
In South Africa, there are no laws stipulating the minimum requirements for produce to classify as organic, biodynamic, sustainable, regenerative or free-range. Instead, different retailers have their own standards certified by third parties.
While the uninformed often blame farmers for unfriendly production methods, the majority of farmers in South Africa, regardless of the production method, see themselves as custodians of the land.
Most farmers are also not "stuck" in one discipline, but rather see different farming methods as tools that should be adapted to production conditions and requirements.