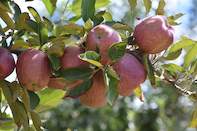 ©Louise Brodie
Culdevco (Pty) Ltd is a joint venture business between the South African Agricultural Research Council (ARC) and five producer organisations of the South African Deciduous fruit industry.
The company was formed in 2006 with the directive to commercialise and manage the intellectual property of all the deciduous fruit varieties that are bred by the ARC. Culdevco (Pty) Ltd is wholly owned by these South African deciduous fruit industry producer groups. Through the license agreement with the ARC, Culdevco (Pty) Ltd obtained the exclusive rights to commercialise all ARC-bred varieties in South Africa and internationally.
The deciduous fruit industry producer groups refer to the deciduous fruit organised agriculture entities representing apple and pear producers (SAAPPA), stone fruit (peaches, nectarines, plums, apricots) producers (SASPA), table grape producers (SATI), Canning Fruit Producers' Association (CFPA) and Dried Fruit technical services (DFTS). These are private sector, grower-funded organisations.
During the time since the company was established, Culdevco's commercial development of ARC-bred varieties has made a significant and positive contribution to the South African Deciduous Fruit Industry. These deciduous fruit varieties are bred in South Africa for South African production conditions.
Culdevco (Pty) Ltd has released a significant number of new deciduous fruit varieties across the various fruit kinds. In addition, the export and international sale of these South African bred varieties have resulted in considerable foreign currency returns for deciduous fruit producers. To date, a total of 10 top fruit (apples and pears), 11 table grape and 67 stone fruit varieties have been released to the South African Deciduous Fruit Industry. The Culdevco (Pty) Ltd stone fruit varieties represent about 3/4 of the South African foreign exchange earnings from stone fruit.
Fruit Farming in South Africa consist of oranges and apples to table grapes and dragon fruit, South Africa is a land of fantastic fruit and one of the main fruit producing countries in the world....
more