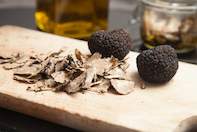 Woodford Truffles SA (Pty) Ltd is a company that works in partnership with farmers and landowners to encourage the commercial agricultural production of the Black Truffle.
Truffle farming in South Africa is a growing industry, with a focus on the production of mostly French/Black Perigord truffles associated with oak trees. It is a highly technical farming enterprise that requires a cool climate, inoculated oak trees, patience and trained sniffer dogs. In South Africa, English and evergreen oak trees are used for truffle farming.
Woodford Truffles is dedicated to establishing large-scale and commercial truffle production in South Africa. They have entered into various global partnerships to ensure the country has a solid export market and access to advice from foreign truffle experts. Furthermore, the company has developed sapling techniques unique to the country's soil, which is used to study DNA-identified inoculums, multiple inoculations, and reduced contamination through autoclaving the substrate of truffles.
The company assists potential grower participants interested in truffle farming by assessing their farm's soil and suitability, and advises new farmers on the best sapling samples, modern farming techniques and local market trends. With solid relationships across the globe driven by the consultation of the scientific community, Woodford Truffles' thorough orchard monitoring has led to various successful truffle harvests nationwide.
Cultivating truffles depends on the technology available to inoculate host trees with spores of the truffle fungus, which occurs under tightly controlled conditions....
more