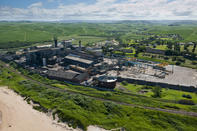 ©Roger de la Harpe
Umfolozi Sugar Mill (USM) was established in 1916 following a concession granted in 1913 to the St Lucia Sugar Company to mill sugar cane at Umfolozi.
Umfolozi Sugar Mill set out with the intention of becoming South Africa's most admired sugar cane processor and it continues today to remain committed to that vision; by investing in sustaining and expanding the cane supply, prioritising quality customer service, fostering a safe and productive working environment and ensuring a superior value creation for all its stake-holders.
Umfolozi Sugar Mill employs a diverse workforce of specialists and labourers to provide essential support services to the sugar cane industry through its partners, consisting of cane growers, farmers and millers.
Cooperation among the direct Umfolozi Sugar Mill team and the support to and from the larger, more indirect participants in USM's production process are all essential to the success of not only USM, but the entire sugarcane industry. Umfolozi Sugar Mill remains open and honest in the ethical manner in which it conducts business and the company is committed to providing quality product and class service.
Over the years, Umfolozi Sugar Mill has developed a narrow gauge transportation system to aid in the extraction of sugar cane from wet conditions, it remains the most efficient transport system in the country.
This system, good cane growing conditions and significant flood control measures on Umfolozi flats make the Umfolozi Mill area an extremely productive sugarcane growing area. USM remains committed to evolving and developing technology that will improve and create value for the business.
Today, many countries, including South Africa sugar production, have again introduced sugar taxes because of rising concern over the negative impact excessive consumption may have on people's health....
more