As the 21st century rolled out, the South African music industry saw a shift in the type of music being produced. The industry was evolving from a traditionally-focused set into a modern, pop and rock focused scene. Musicians flourished by combining traditional elements of South African music with popular international genres.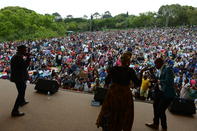 ©Eric Miller
The band The Soil performing at the Kirstenbosch Gardens in Cape Town.
The industry went head-first into a more explorative direction where artists were free to experiment and create distinctive sounds that have not been heard before. Prior to the 2000's, SA music was heavily restricted by the apartheid regime who marginalised artists of colour and deprived many exceptional musicians of producing and recording music on a national level.
When apartheid ended in 1994, the focus shifted from struggle music to a more Westernised and modern sound. Bands and musicians started questioning the status quo and moving towards a more alternative and open music industry. The mix of traditional genres and modern concepts created genres like Kwaito and Afrikaans-alternative, which paved the way for a new wave of South African music.
Popular musicians of the early to mid-2000's includes Johnny Clegg, Emo Adams, Alice Phoebe Lou as well as bands like Prime Circle, Just Jinjer, Gangs of Ballet and Soweto String Quartet. As the music industry continues to change and evolve, South Africa Online ® documents the contemporary musicians and bands of South Africa.