Class of Her Own
The band Paige Mac is the brainchild of lead singer and songwriter, Mac Mahon. Her voice has often been likened to that of, UK songbird, Adele. High praise that is certainly merited, this South African musician is in an entire class of her own with her unique songwriting that expresses uncomfortable emotions along with her masterful guitar playful.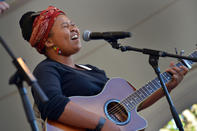 ©Eric Miller
The band is comprised of two members, Mac Mahon as mentioned is the lead singer and songwriter as well as guitarist, while Garry van Vuuren, who is Mahon's cousin is the bass player. Their sound is said to be influenced by Amy Winehouse, Nat King Cole, Nina Simone amongst a lengthy list of musical inspirations.
Mac Mahon's octave range coupled with her songwriting ability has converged to create a sound that is part soft-rock, part acoustic-soul with a dash of folk-edge for good measure.
The band has played all over Cape Town at the Obviously Armchair theatre, Zula Bar, and Cape to Cuba. They have also opened for other musical acts like Josie Field, Son of 1000, and Natasha Meister as well as performed at the following shows: the Grahamstown Arts Festival, the Cosmopolitan Lingerie Show and onboard MS Amsterdam, a cruise liner. Additionally, they reached 2nd place in the Battle of the Bay competition and appeared on television shows like Top Billing and the Expresso Morning Show.
The music video of 'Atrophy' the first track off their album, A Moment's Nostalgia, caught the eye of Universal Music`s Benjy Mudie. This later cultivated into a business partnership, when in August 2012 Universal Music issued a statement that they had signed Paige Mac to a long-term international agreement with the company.