Life without music would be a quiet place. It is part every average person's life. There is a song for every emotion, every mood and every occasion. Music brings people together to form a bond beyond materialistic values - it makes the world, and society, a better place.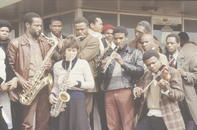 ©Dr Peter Magubane
Music can be a healing, beautiful noise or it can be a call to justice and revolution. Music defines a society and captures the essence that makes a culture extraordinary. It allows people to go into a different space and experience different emotions. It allows you to find expression for things that you often can't express yourself.
South Africa has a rich, vibrant history of music. Music was the sound of resistance during the apartheid years that produced anti-apartheid songs, further elucidating the plight of South Africans. The country boasts with legendary musicians and performers that shaped the unique genres of South African music we know and love today.
South Africa is home to numerous internationally celebrated musicians of various genres - jazz legend Hugh Masekela, singing diva Miriam Makeba, hip-hop icons Die Antwoord and Afro-pop singer Brenda Fassie to name a few. South Africa Online ® celebrates the life and times of South Africa's legendary musicians. It will provide factual information on musicians and music genres dating all the way back from the 1940's.