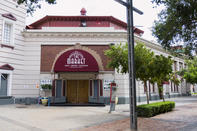 ©Andile Bahla
The Market Theater.
South Africa is a hotbed of originality and creativity which is evident in its vibrant theatre scene. Offering everything from indigenous African art forms such as storytelling, dance and music, to European-influenced styles such as ballet and classical music, South Africa has a flourishing art scene.
When visiting South Africa, be sure to catch a live performance at one of the country's extensive lists of music and theatre venues spread across the country, including the iconic Market Theatre.
Cultural Binge of Performance Arts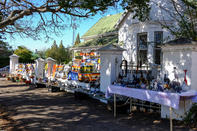 ©Tracy Derrick
Grahamstown Festival Arts Sale.
South Africa is also home to a multitude of festivals spread out all over the country and all through the year. For a cultural binge of performance arts, take a trip to Grahamstown/Makhanda, home to the National Arts Festival (formally called the Grahamstown Arts Festival). The festival is held in July and is the second biggest arts festival in the world, after Edinburgh.
Or go on a musical journey at the Splashy Fen Music Festival. The festival is held in the Drakensberg in April and is one of the longest-running music festivals. Most people camp out or stay in a nearby comfy B&B and commute to the festival.
If you're in Oudtshoorn around in late March or early April, get a taste of Afrikaans arts and culture at the Klein Karoo Kunstefees (arts festival).
Home-grown Entertainment
South Africa has hundreds of theatres spread across the country where theatregoers can enjoy everything from dance and music performances to intimate theatre experiences. Popular theatre venues include the Market Theatre and the Civic Theatre in Johannesburg, the State Theatre in Pretoria, the Baxter Theatre and Artscape (previously the Nico Malan) in Cape Town, and the Playhouse in Durban.
But even small towns are joining in. The charming village of Darling, for example, is becoming a theatre centre of note, mainly through the efforts of one of its most illustrious citizens, satirist Pieter-Dirk Uys and his alter ego, Evita Bezuidenhout.
Summer Concerts
One of the most popular ways to listen to local music is at one of the many outdoor concert venues during the summer months – Kirstenbosch, Durban Botanical Gardens or the Oude Libertas Amphitheatre in Stellenbosch. Bring along a picnic basket and blankets and enjoy outdoor live music.