South African Jazz is a musical kaleidoscope of local and international influences. South Africa developed its own soulful style of jazz, creating a unique and vibrant genre in the South African music industry. The diverse culture and heritage of South Africans, as well as an African-American influence, shaped the early South African Jazz scene.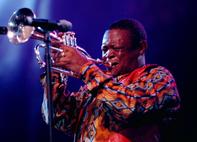 The Legendary late Jazz performer, Hugh Masekela.
Travelling musicians picked up on these indigenous nuances, helping to create this unique sound of South African Jazz. The apartheid years had a great impact on the culture of jazz. Musicians of a different race were no longer permitted to play together, and the music scene changed drastically.
Jazz became a form of protest music in the townships, addressing issues regarding police brutality, segregation and injustice. This is where music genres such as marabi and mbaqanga formed and flourished years later. Today, African jazz music has been well established in the country.
Legendary jazz musicians such as the late Hugh Masekela, Abdullah Ibrahim, Cups Nkanuka, Sylvia Mdunyelwa and Jonas Gwangwa paved the way for the modern SA Jazz scene. South Africa Online ® focuses on providing readers with information on local jazz legends, the history of South African Jazz, the different genres and its cultural importance.