Cape Town has a vibrant, tumultuous history of music. During the apartheid years, Cape-coloured musicians were relentlessly oppressed and barred from sharing their music with the country and the world.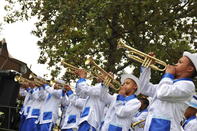 ©Eric Miller
However, their fearless perseverance to keep making authentic, beautiful music in the face of adversity is now legendary. In Cape townships and rural communities, jazz music is a thriving genre that is defined by its colourful, lively sound, pioneered by Cape Jazz Legends of the 20th century.
On the Cape Flats, local jazz was created as a particular 'township' style mix with energetic sounds by musicians like the legendary saxmen Robbie Jansen, Basil Coetzee, Winston Mankunku Ngozi, McCoy Mrubata and the brother's Duke and Ezra Ngcukana.
Added to this fine collection is the returned exile and pioneer musician Abdullah Ibrahim, famous for the composition 'Manenberg' - Where It's Happening.
Today, Cape Jazz is a dynamic genre of music with a strong local following. SouthAfrica.co.za invites you to learn more about the pioneers of Cape Jazz, and the musicians who are leading the way for a new generation of Cape Jazz musicians.