Throughout the years, Eastern Cape jazz has had a longstanding reputation for creating a unique style of South African music that has developed into a distinctive, vibrant section of South African jazz.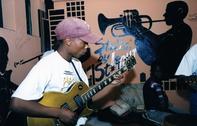 ©Dr Peter Magubane
The jazz musicians in this region have long and colourful histories, which span the years of the struggle against apartheid. In the 1950's, when jazz was starting to develop, Eastern Cape jazz drew a lot of inspiration from America.
In East London, local aspiring musicians would visit American ships docked in the harbour, and they would befriend the musicians on board, taking them to their homes, whereupon they would play their records and discuss jazz.
Notable Eastern Cape jazz legends include pianist Chris McGregor, trumpeter Mongezi Feza, drummer Lulu Gontsana and sax player Dudu Pukwana to name a few. SouthAfrica.co.za celebrates the legends of the past, and the future of Eastern Cape jazz.