When South African Jazz diva Sylvia Mdunyelwa enters a room, her regal presence grabs your attention immediately. Her conversation is light and quick-witted - there is never a dull moment with this jazz singer.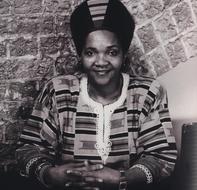 Sylvia Mdunyelwa is known for her rich, smooth vocals and soulful ballads.
Sylvia, affectionately known as "Mama Kaap", is a fiery woman with a sharp tongue and sharper pitch. She is a legendary jazz singer, actress, community builder, motivational speaker, singing coach and mentor to young artists.
She is known as one of the greatest jazz singers of South Africa and has earned international recognition with her smooth, enticing voice and soulful rhythm.
"I sing to communicate and I sing to heal," Sylvia says. She enjoys a wide variety of styles, specifically ballads. She prides herself on singing with a purpose - "I sing so that I am able to say to someone 'Stop crying. Everything will be okay.'"