Decades of Music
Sylvia Mdunyelwa's vibrant musical career has spanned over decades and she continues to be a great influence on the South African jazz scene.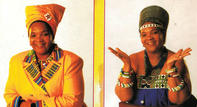 Sylvia Mdunyelwa has produced two albums and has was nominated for an South African Music Award in 2000
She had a successful radio programme called 'Voice of Jazz' on P4 Radio in the 1990's, which ran for five years, as well as a jazz slot on the popular Xhosa radio station, Umhlobo Wenene in the 2000's. Sylvia has released two albums, titled, 'African Diva - Live in Africa' in 1998.
She made her second album in 2000 titled 'Ingoma' with record label EMI South Africa, produced by her colleague and childhood friend Victor Ntoni, which was nominated for a South African Music Award in 2000. Today, Sylvia is still very much active in the music and South African jazz industry and performs at various venues across the country.
Her legacy also continues through her work as Chairperson of the Langa Arts Association. Rashid Lombard, a jazz photographer and friend of Sylvia's, had this to say about her:
"Sylvia can sing jazz with the best of them, but it's her near flawless connection with each song that gives her the edge over many of today's jazz vocalists. She developed the great South African tradition and worked with some of the most important talents of township jazz." Sylvia's legacy is rooted deep into South African jazz and continues to pave the way for future South African musicians.
Generational Influence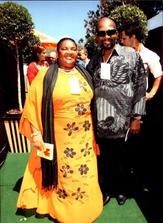 Sylvia Mdunyelwa with her actor-husband Kwezi Kobus.
Sylvia's influence has extended to her three children Banzi, Christy and Hlubi. Banzi teaches and performs marimba across the globe, and founded Imbewu Marimba Community, with Sylvia and actor Kwezi Kobus as directors. Christy works for an investment company, while Hlubi is a singer and producer based in Johannesburg.
"I am happy that my children are doing what they love the most. I never had to push them," says Sylvia. Sylvia believes that the youth of South Africa will carry the legacy of jazz forward.
She had the following to say about continuing the jazz legacy: "Take care of your legends. They took care of South Africa a long time before 1994. They sang songs in order to teach the next person to be humble. Everybody who plays jazz is a smart person".
Words of Advice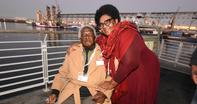 Sylvia Mdunyelwa with legendary photojournalist Dr. Peter Magubane.
Sylvia is keen for primary schools in South Africa to offer music literacy. She has high hopes for the future of jazz in South Africa. "Many South Africans developed their love of jazz from their great-grandfathers," she says.
"Most of the children born in homes that play jazz will stay with jazz lifelong". In the face of emerging music genres, Sylvia feels that the tradition of Sunday afternoon jazz concerts must and will continue. "Jazz can never die," she says.
Sylvia Mdunyelwa has no plans on slowing down anytime soon. She holds her own in every way possible and inspires young artists around South Africa with her rich vocals, dynamic personality and down-to-earth charm. Sylvia has a message for South Africa's aspiring legends, be it in jazz or anything else."You don't wake up and become a legend. You have to earn it."