Humble Beginnings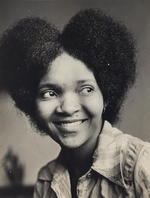 A young Sylvia Mdunyelwa
Sylvia Ncediwe Mdunyelwa was born in the lively township of Langa, Cape Town. The Langa community is known as a mecca for South African jazz, and it is where Sylvia's love for the music genre grew and bloomed into an illustrious career. Sylvia's family all had a role to play in her love for music.
parents sang in their church and her siblings were musicians who practised in the back of their home. Sylvia recalls times growing up in a musical home. "Ours was a humble home, which everyone in the Langa community knew.
We were not rich, but spiritually we were," she says. Sylvia's sister was a soloist with The Dolly Sisters, while her brother sang with the band Harmony Jigs. Sylvia had an uncle, Aspro Sipoyo, who sang like Sammy Davis, she says.
Thus she was free to develop her skills amongst her talented family. At the age of five, Sylvia began to sing along to songs by jazz icons Ella Fitzgerald, Sarah Vaughan and Carmen McRae. Little did she know that she herself would one day inspire young girls with her immense talent. Sylvia attended primary school at St Cyprian's in Langa, an Anglican church establishment.
The principal, a choirmaster, shared Sylvia's love for music and would record the pupils singing trios and quartets. Sylvia sang various voice parts, including soprano and contralto, but her voice ultimately "became bassy", as she puts it. Such were the humble beginnings of Sylvia's distinguished career.