Sylvia's Path to Greatness
Sylvia Mdunyelwa's music career started at an early age. She was surrounded by gifted musicians and grew up singing jazz. She recalls the story of how, at 8 o'clock at night, prayers and hymns would be sung by all members of her household.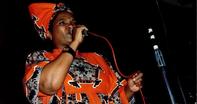 Sylvia Mdunyelwa's music career kicked off in the 1970's when she started to perform with the Victor Ntoni sextet.
"The harmonies that came out of our house was amazing," says Sylvia. Sylvia had grown up surrounded by musical influences that helped her develop her niche for the traditional South African jazz scene. In the 1970's, Sylvia joined the Victor Ntoni Sextet and began performing.
She then started working as a receptionist at the Space Theatre in Cape Town, a fringe theatre that was popular in the 70's but closed down due to financial pressures.
There she became involved in amateur theatre and pursued acting on a freelance basis. She performed in various theatre productions and starred in films such as 'Shepherds and Butchers', 'Born to Win' and 'Freedom Road' to name a few. Although the remuneration for her work was not substantial, Sylvia was always a professional at heart and simply enjoyed entertaining people.
Sylvia's career took off once she started doing regular musical performances, for example, participating in Sunday afternoon jazz sessions at the Space Theatre. There she collaborated with local jazz musicians such as Merton Barrow and Morris Garonsky.
Later she would perform with some of Cape Town's top musicians, including the late saxophone legend Winston 'Mankunku' Ngozi, the late Robbie Jansen and Nick Carter. She also performed with the late jazz marvels Duke and Ezra Ngcukana.
Extensive Knowledge of Music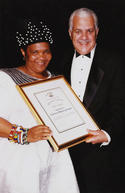 Sylvia Mdunyelwa with the MEC for Arts and Culture in the 1990's, receiving an award for outstanding achievement in arts and culture
Sylvia's passion for music resulted in an interest in educating the youth about traditional South African jazz. She is dedicated to passing on her extensive knowledge of music to the younger generation, mentoring young musicians and exposing them to the wider world of music.
During the early 1990s, Sylvia led a youth group to Canada where they participated in the International Children's Festival. The Educational Opportunities Council then awarded her a grant to further her music studies in the United States at the University of California in Los Angeles.
She says this experience equipped her better to help local emerging artists achieve their dreams.
Performances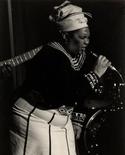 Sylvia Mdunyelwa is a soulful performer, always captivating her audiences.
Sylvia has performed at many high-profile events alongside legendary musicians. Locally, she was invited to perform numerous times at the popular Cape Town International Jazz Festival as well as the Cape Town Jazzathon.
Sylvia was joined by African jazz musician Jimmy Dludlu at a few of her performances. She has performed in Johannesburg, at the Joy of Jazz Festival, where she was bestowed with a lifetime achievement award. Sylvia has also performed internationally, gaining recognition in various countries.
In the 1990's, she performed at the Berlin Jazz Festival. In the 2000's she was invited to perform in Tokyo, Japan with Ezra Ngcukana and Feya Faku in her band. Sylvia was one of the first South African jazz artists to mesmerise audiences at the North Sea Jazz Festival in Hague in the Netherlands.
Sylvia has popularised iconic African songs such as 'Abazali, Qongqothwanwe' (the 'Click Song'), 'Hambe Bhekile' and 'Lakutshon Ilanga' by putting a jazz spin on it. Her recordings under the African Renaissance Series label has earned her much praise. She, alongside her band of talented musicians, such as Stix Mrwebi on drums, Peter Ndladla on electric bass, Tete Mbambisa on piano, Soyi Soyi Gqeze on backing vocals and Morris Goldberg on alto sax, have performed beautiful reditions of smooth jazz.
Career Highlights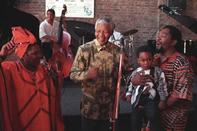 Nelson Mandela singing and dancing with South African jazz singer Sylvia Mdunyelwa at his staff party at Green Dolphin Restaurant, V&A Waterfront, Cape Town.
One of Sylvia's career highlights was performing the Click Song for former President Nelson Mandela at Green Dolphin, a Cape Town jazz venue. She also performed for him at the opening of the Nelson Mandela Gateway to Robben Island.
Another highlight for Sylvia was performing for the great Natalie Cole at the V&A Waterfront. Sylvia was performing at a restaurant that Natalie was dining at.
Natalie was so moved by Sylvia's performance that she woke her band to join her at the restaurant, where she then got up and performed. Sylvia recalls the night as one of her most exhilarating memories. "This was the most exciting moment of my life and Natalie said she is 'singing for her sister Ncediwe'". Sylvia Mdunyelwa continues to enjoy a robust career decades after she started making music.
Sistas Healing our Souls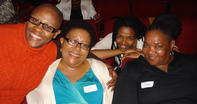 The dynamic divas of jazz (from the left): Gloria Bosman, Sibongile Khumalo, Simphiwe Dana and Sylvia Mdunyelwa
In 2007, Sylvia produced 'Sistas Healing Our Souls', a collaborative performance that featured various top South African jazz divas, which included local musicians Abigail Kubeka, Sibongile Khumalo, Tandie Klaasen, Dorothy Masuka, Tina Schouw, and Gloria Bosman.
The first show was held at Cape Town City Hall and was dedicated to Busi Mhlongo. Another show was held on International Women's Day at the Artscape in Cape Town.
The performance was a celebratory tribute to women of South Africa who have endured physical and emotional pain and still rose in opposition to injustice. The 'sistas' honoured the strength, diversity and courage of millions of unsung heroines - ordinary women of South Africa.