Penny Whistle Jive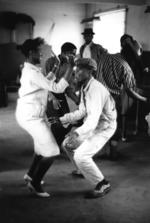 ©Dr Peter Magubane
Kwela was a lively mix of traditional and Western jazz that was played at social gatherings.
Kwela is a South African style of music based on jazzy undertones and the penny-whistle instrument. It derived from the marabi sound and brought the distinctive African jazz sound to prominence in the 1950's. Kwela evolved in the townships of South Africa during the apartheid years, where musicians would play the penny whistle, which is a cheap and portable flute instrument and created vibrant sounds of an African and jazz influence.
Kwela music was formed through a number of influences - music of Malawian immigrants to South Africa was combined with local South African sounds, as well as jazz rhythms. The word 'kwela' has two meanings - the literal meaning is 'get on board', and it could also refer to getting onto the police vans, which people called 'kwela-kwela'.
The music would predominantly be played at shebeens where people would gather to drink, dance and socialise. Kwela performers crafted the style of music to create a perfect blend of light, youthful sounds of penny whistling and African flair. They were sometimes at risk of being arrested under apartheid law, but continued to perform, despite the omnipresence of police persecution.
This genre received quite a bit of international fame in the 1950's, with various musicians adapting the music to western standards. Local musicians of kwela included Spokes Mashiyane, Kippie Moeketsi and groups like the Skylarks and the Manhattan Brothers.