Old-School Rockers
Ross Learmonth, the frontman of popular South African rock band Prime Circle, is the embodiment of an old-fashioned rocker navigating a new age of music. Learmonth's unique, sultry voice contrasts the mix of rock and electronic melodies that make Prime Circle so successful.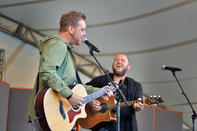 ©Eric Miller
The band has a loyal fanbase in South Africa and their music has stood the test of time for more than a decade. Prime Circle was formed in Johannesburg and includes musicians Ross Learmonth, vocals and guitar, Marco Gomes on bass, Dale Schnettler on drums, Neil Breytenbach on keyboard and Dirk Bisschoff on guitar.
The band debuted in 2002 with their album 'Hello Crazy World', which propelled them onto the SA rock scene. Their blend of rock, pop and bass undertones combined with Learmonth's distinctive voice was a breath of fresh air for local rock lovers. In 2005 they released 'Live This Life', which also charted well. In 2006 the band started touring as supporting act of the band Live.
They performed at the 46664 Nelson Mandela concert and played alongside legendary American bands Metallica, Simple Plan and Good Charlotte. Their third album 'All or Nothing' was nominated for four SAMA awards (South African Music Award) in 2008. The band continued to play alongside international bands who had concerts in South Africa, like Korn, Muse and 30 Seconds to Mars.
The album 'Jekyll and Hyde' was released in 2010, which did extremely well in the South African charts. Their next two albums 'Evidence', 2012 and 'Let The Night In', 2014 offer songs with a fresh creative energy and edge that delights fans. Prime Circle is a favourite for South African radio stations and their songs have an old-school, edgy feel.
In 2016, the band embarked on an international tour, performing in Germany, Austria and Scandinavia. Their newer music also features more electronic and pop sounds, which showcases the band's growth and adaptability to the market. The band has sustained their popularity for over a decade, which can be attributed to their unique sound that combines old and modern rock with powerful lyrics and intriguing vocals.
Learmonth's love for nonconformity and unconventional approach to rock has shaped not only the band's sound but their songwriting as well. It is heavily influenced by approaches to the rock genre and their own life experiences.
Prime Circles latest album 'If You Don't You Never Will', 2017 has a softer, lyrical sound and encapsulates the band's evolution. The band continues to perform across the country and entertain audiences with their laissez-faire rock shows.