Acclaimed Musician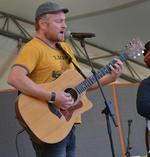 ©Eric Miller
The accomplished Nick Turner is a South African singer and songwriter known primarily as the founding member of the 90s SA band, Son of Trout. He later helped to form the Rock band, Mikanic with his former band member and violinist, Mike Rennie.
His style of music has been described as representing a blend of musical genres such as rock, reggae, Afro-pop, ghoema-accented (Ghoema is music type that is local to Cape Town) hip-hop and jazz. His songs are pertinent reflections of real life and lyrically important with an element of humour that helps to captivate listeners.
Nick has performed at several music festivals such as Rockin' The Daisies, the Klein Karoo Nasionale Kunstefees, the Cape Town International Jazz Festival and Oppikoppi. Additionally, he has won many awards recognising his musical talent.
He has also collaborated with other well-known SA artists such as Karen Zoid, Louis Mhlanga, and Zolani Mahola from Freshly Ground. His passion for musical creation included his participation in a project called Music Van De Caab.
This project focussed on retaining the musical heritage of the Cape - Ghoema and Vastrap. This was achieved through the delivery of songwriting workshops and teaching.
In 2016, Nick brought out his first solo album, Home and Secure under the Rootspring Music banner. This album is a nostalgic offering representing two decades in the music industry.