Musical Chameleon
Mac McKenzie is a musical jack of all trades: a rocker, a jazzman, a goema pioneer and an extraordinary symphony composer. During the 1970s, he produced groundbreaking music that ensured his longevity in the South African music industry. His rough mix of musical styles and influences has made him a musical chameleon, never conforming to one specific music genre.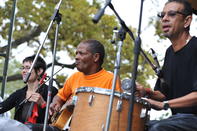 ©Eric Miller
Mac McKenzie (middle) performing at a local festival in the Western Cape in 2010.
McKenzie grew up during the 1950s surrounded by music - the Kaapse Klopse and his father, who was a banjo player for 50 years, inherently inspired McKenzie to pursue music. He began learning guitar chords at the age of nine. During his teen years, McKenzie was part of various local bands and began composing his own songs.
In the 1980s, he became well-known on the jazz and rock circuit as the frontman for the band, The Genuines. In true rock-'n-roll fashion, the band travelled extensively throughout Europe spreading their brash, electric sound with traces of goema and a lot of attitude.
After several years, he disbanded The Genuines and ventured into the world of jazz. In 2002, McKenzie assembled a band called the Goema Captains of Cape Town, where he exchanged his electric guitar for a jazz guitar, and the punk scene took a backseat in his musical repertoire. McKenzie has been instrumental in blending the vibrant sounds of goema with the sultry and swanky notes of jazz.
In 2006, the musical chameleon once again put on a different musical hat, this time focussing on composing symphonies with a goema twist. He has written numerous pieces, each as unique as the next, one particularly focussed on the troubled history of South Africa.
McKenzie has helped diversify South Africa's music scene; his unwillingness to conform has made him the icon that he is today. One of his favourite quotes is 'Off the cuff you show your hands', which perfectly encapsulates his music - rebellious and magical.