Afrikaans Cape Hip-Hop
During the 1990's, South African music was shifting towards more progressive, alternative sounds that defied government regulation and commercialisation. Musicians were exploring the art of translating their indigenous language into music, and pushing the boundaries of what South African music was at the time.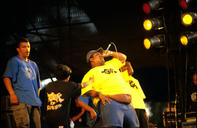 ©Eric Miller
Brasse Vannie Kaap performing at the KKNK music festival in 2000.
One such group was Brasse Vannie Kaap: a controversial, often underrated group of Cape Afrikaans rappers and hip-hop artists. Brasse Vannie Kaap, Brothers from the Cape, hit the SA music scene with tenacity and spunk. Hailing from the Cape Flats, an impoverished community outside Cape Town City Centre, the group was made up of 4 vocal members: Deon Daniels aka Boeta-D, Roger Heunis aka Hamma, Ashley Titus aka Mr Fat, and Enver Pietersen aka DJ E20.
Back-up dancers included Shortee Blitz, Cheez, Baby L and Linden. The group formed in 1996, rapping in their home language of Afrikaans, in a Cape-coloured dialect. Brasse Vannie Kaap, is mainly known for commercializing Afrikaans hip-hop in Cape Town. After the group's inception, they started doing live performances in the Cape area.
In 1997, their debut self-titled album BVK was released. It had relative success amongst Afrikaans youth, with numerous hits receiving airtime on various local radio stations. DJ E20 left the band soon after the release of BVK and was first replaced with DJ Big Dre. DJ Big Dre's appearance in the band was short-lived and he was replaced by DJ Azuhl.
Their second album titled Yskoud (Ice Cold) was released in 2000, and soon thereafter the group became commercially successful. The album was nominated for a South African Music Award in 2001. BVK's music focused on a mix of misconceptions and peculiarities pertaining to the Cape Flats, highlighting social issues by combining street slang and powerful hip-hop breaks.
Some of the members of BVK had, and still have, illustrious careers outside of the group. Deon Daniels aka Boeta-D, born in District Six, has been part of the South African hip-hop culture since 1983. He started a breakdancing group called The Ballistic Rockers, and in 1996 he won the DJ of The Decade Championship.
He appeared in various international magazines, and his highlight performances include the Quincy Jones Montreux Jazz Festival in Switzerland and The Presidential Inauguration of President Nelson Mandela. He also appeared in the American movie 'On Dangerous Ground' alongside US rapper Ice Cube. He now has a solo career as a rapper and DJ.
The late Ashley Titus aka Mr Fat, born and bred in Bonteheuwel, started as an MC and rapper in the 1970's. He was part of a rap group called Jam B for four years before embarking on a solo career and later joining BVK. He died in 2007 after a short illness.
Enver Pietersen aka DJ E20, from Mitchells Plain, started his rapping career in 1993, and performed internationally as an assistant DJ to DJ Ready D in Germany. He got his rap name from the famous Nissan E20 minibus taxi.
The back-up dancers for BVK all belonged to the breakdance group Azanian B.Boys, and they performed internationally in Switzerland and Norway with rapper P.O.C, and locally in 1998 at the Synergy festival. Brasse Vannie Kaap was the first group to take part in a collaboration between Belgium's Pukkelpop music festival and South Africa's festival Oppikoppie.
In 2001, Roger Heunis (Hamma) left the group and was replaced by Garlic Brown. Through their busy schedules, BVK worked on several out-reach projects and charities to help uplift their community. BVK toured the country extensively for six years before disbanding in 2006. Although the group no longer exists, their work left a mark on the South African music industry.
They paved the way for other local artists to delve into non-standard dialects of rap and they set the scene for 'rapping in vernac'. Their upbeat mixture of Afrikaans slang and cool beats will always be an inherent part of South African hip-hop culture.