The Girl with the Guitar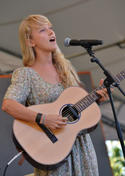 ©Eric Miller
Alice Phoebe Lou performing at the Kirstenbosch National Botanical Gardens in Cape Town, South Africa.
Listening to the majestic, bluesy sounds produced by South African singer, songwriter and guitarist Alice Phoebe Lou is a cathartic experience. Her mix of folksy beats and soprano vocals has captivated audiences around the world. She is a fierce artist with a strong creative voice who has redefined the idea of an independent, free-minded musician.
Lou's love for music blossomed during her early years. As a child, she had a keen interest in music, art and theatre, which led to a multi-dimensional creative upbringing. At the age of 16, during her summer holidays, Lou visited Europe for the first time. Here, she observed street performers fire dancing.
Lou decided to do the same to ensure she had enough funds to continue travelling. Her wanderlust led her to spend time in Paris and Amsterdam, where she got first-hand experience performing as a street performer learning the pros and cons of this art form. She became inspired by this lifestyle, delighting in the intimacy of street crowds, and found a passion in the creativity of performing.
In 2012, Lou completed high school in South Africa and returned to Europe, this time finding herself in Berlin, Germany. Busking across Berlin, Lou gave street performances with her guitar and small amplifier, where she quickly gained a cult following of people who enjoy her vagabond spirit and distinctive voice.
She performed in Berlin for another year, appearing on a German television show and geared up to release her first EP, "Momentum", which she released herself in 2014. She then started to play at venues, venturing beyond street corners and into the greater music industry.
International Fame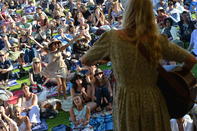 ©Eric Miller
Alice Phoebe Lou performing with audience in view at the Kirstenbosch National Botanical Gardens in Cape Town, South Africa.
After Lou performed at a TEDx event in Berlin, multiple record deals were offered to her. Like the free-spirited creative she is, she turned them down and chose to stay independent, refusing to let her musical freedom be taken away. She went on to collaborate extensively with jazz and electronic musicians, further extending her unique sound. She continued to perform at intimate events across Europe and South Africa, supporting established artists like Rodriguez. In 2016 Lou released her first full-length album "Orbit". The album is comprised of jazz influences and a range of blues, soul and folk sounds. It was produced by instrumentalist Matteo and musical artist Kyson, which further showcased Lou's collaborative songwriting skills. "Orbit" is a masterful blend of Lou's dynamic vocals, elegant rhythms and new school beats.
Lou continued to do street performances and in 2017 she toured parts of Europe and South Africa, playing three sold-out shows at the Berlin Planetarium in Germany. The same year Lou saw her single "She" from the film Bombshell: The Hedy Lamarr Story added to the shortlist for Academy Awards' Oscars in Best Original Song category. In 2018, she extended her touring to the USA, Japan and Canada.
Lou is one of the more original voices to hit the SA music scene. Her fusion of jazz, blues and folk makes for a beautiful, lyrical sound that sends the listener on a journey through Lou's intricate creativity.