Face of Afro-fusion Music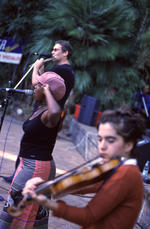 ©Eric Miller
Freshlyground giving a lively performance at Kirstenbosch Gardens. Pictured (from left) is Simon Attwell, Zolani Mahola and Kyla-Rose Smith.
As memorable as a freshly brewed cup of coffee in the morning, Freshlyground is one of South Africa's most successful Afro-fusion bands. Their effortless blend of kwela, folk, jazz and blues results in fun, upbeat songs that are guaranteed to get you up and dancing. The band was founded in Cape Town in 2002, including home-grown talent as well as members from Mozambique and Zimbabwe.
The lead singer Zolani Mahola is a feisty performer with smooth vocals and a feel-good groove. Joining her is Kyla-Rose Smith, violin, Julio "Gugs" Sigauque, lead guitar, Josh Hawks, bass guitar, Shaggy Scheepers, percussion, Simon Attwell, flute, mbira and harmonica, and Peter Cohen, drummer.
The band create a distinctive and refreshing sound, with their debut album 'Jika Jika' in 2003, receiving good reviews that kick-started the band's career. They quickly became the face of new South African music. The band released their second album 'Nomvula' in 2004, which went on to achieve double platinum status locally. It got significant radio airtime as the album contained feel-good tunes and a lively mix of African sounds and pop.
Their follow-up albums Ma'Cherri (2007) and Radio Africa (2010) also received wide-spread success. A highlight in Freshlyground's career came in 2010 when they collaborated with Columbian pop superstar Shakira to write and perform the 2010 FIFA World Cup official song called 'Waka Waka -This Time for Africa'. The song expertly expresses the energy and vibrance of South Africa, as the song is based on a popular Makossa African soldiers' song.
At the 2006 MTV Europe Music Awards in Copenhagen, Freshlyground became the first South African musical act to receive honours from MTV. They received the MTV Europe Music Award for Best African Act. The band has also been nominated for three South African Music Awards (SAMA). In 2007 they won the SAMA for Album of the Year, as well as Best Adult Contemporary Album, and in 2008 they won for Best Duo or Group.
Freshlyground plays with a plethora of sounds, from the African mbira to the saxophone, to the energy of Mahola's voice. Their live performances are seen as the bedrock of their popularity, and are spectacular for fans as they sing, dance and clap to the spirited rhythms and soulful melodies. The band shows no signs of stopping, and continues to produce tenacious, creative and spell-binding music that defines the contemporary music industry of South Africa.