Young Talent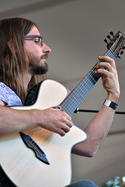 ©Eric Miller
Guitarist Guy Buttery performing at Kirstenbosch Botanical Gardens Summer Concerts, Cape Town.
No one chronicles the bittersweet sounds of the guitar quite as exquisitely or explosively as South African guitarist Guy Buttery. He is one of the most influential guitar players the country has produced - his soulful expression of South African stories, culture and way of life is beautifully translated through the notes of his acoustic guitar.

Buttery grew up in a musical household in a small coastal town on the North Coast of KwaZulu-Natal. The KZN area is filled with a rich cultural history and this influenced Buttery's creative spirit. He was introduced to music by his mother, a pianist, and his older brothers who played guitar.
He started his interest in creating music and playing the guitar at the tender age of 10. He was inspired by the local Zulu tribesmen playing on homemade oil drum guitars, the sounds of the sitar and tabla from the Hindu temples and the likes of guitarist, Robby Krieger from The Doors, Bob Dylan and Bob Marley.

During his formative years, Buttery practised on his brothers hand me down guitar to the sounds of rock and folk harmonies. After hearing John Paul Jones from Led Zepplin play the mandolin, Buttery acquired a mandolin, and then a sitar after hearing Ravi Shankar.
At the age of 13, his first guitar teacher, Leandros Stravrou, introduced him to classical harmony. This ignited new musical discoveries and with his friend, guitar teacher and collaborator, Nibs van der Spuy, Buttery met fingerstylist Michael Hedges, who led him on to new musical discoveries.
Guitarist Extraordinaire
After completing high school, Buttery studied Jazz at the Kwa-Zulu Natal Technikon and later at the Durban School of Music to further his classical training. Buttery's first big performance was in 2001 at the age of 17 when he was the opening act for Mozambican musician Gito Baloi. There he caught the eye of both Baloi and guitarist Nibs van der Spuy, who could not deny the young musician's talent.
Buttery then went on to accept a record deal with South African World/Jazz label, Sheer Sound, who produced his debut album 'When I Grow Up…' in 2002. It was comprised of original, self-written acoustic fingerstyle compositions, and it received critical acclaim nationwide. In the same year, 18-year-old Buttery became the youngest musician to be nominated for a South African Music Award (SAMA) for 'Best Instrumental Album of the Year' and 'Best Newcomer for 2002'.
He quickly gained a large local cult following. Buttery creates a distinct fingerstyle sound by using both his hands on the fretboard, producing a percussive sound with harmonic textures. Buttery has never lacked inspiration as he continues to create diverse sounds and playing styles with his guitar. In 2005, Buttery released his second album 'Songs from the Cane Fields'. He drew inspiration from his local surroundings: the album speaks of the freedom and joy found in African heritage and the many historical paths South Africans before him have followed. Even though the album pays homage to his home, it has gained worldwide recognition and has placed Buttery in the international spotlight. He has performed in the United States, Europe, Australia and the United Kingdom.
Throughout his travels, Buttery has collaborated and performed with artists such as Martin Simpson, Jethro Tull and Piers Faccini. Local collaborations include performances with Vusi Mahlasela, Madala Kunene, Valiant Swart and Steve Newman. His third album 'Fox Hill Lane' was released in 2010 and will go down in history as one of his best pieces of work.
The album features local legends like Madala Kunene, Tony Cox and Syd Kitchen, which made South Africa sit up and take notice of Buttery's undeniable talent. The album won 'Best Instrumental' album of the year at the 2010 SAMA's, as well as the 'Standard Bank Golden Ovation Award' at the 2010 National Arts Festival in Grahamstown. Buttery's career continues to flourish as he performs both locally and internationally.
His musical prowess and extraordinary skills prove that he has staying power, and in 2018 Buttery received the Standard Bank Young Artist Award, which is the highest accolade a musician can receive in South Africa. Buttery is a true South African legend with a long career ahead of him.