Rock Singer and Guitarist
The brooding, passionate singer, songwriter and guitarist Jesse Clegg is no stranger to the South African music industry. His father is the legendary Johnny Clegg, and the apple did not fall far from the tree. In the short time, he has been making music, Jesse has already reached platinum-selling success, which has secured his spot as a musician in his own right on the SA music scene.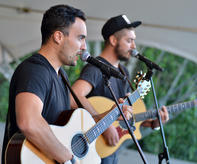 ©Eric Miller
Jesse Clegg performing at the Kirstenbosch National Botanical Gardens.
A relative newcomer to the industry, Clegg made his debut in 2011 with his album 'When I Wake Up', which was a nation-wide success. Clegg's rock aesthetic and poignant lyrics caught the attention of Canadian producer David Bottrill, who then produced his second album, 'Life on Mars'. He then went on tour in North America and Canada, gaining an international fanbase.
In 2016 he released his third album, 'Things Unseen', a songbook of reflection, which charted well on national radio stations. He then went on to complete his second tour of North America, playing 36 shows across the continent.
Clegg has been nominated for three South African Music Awards and was invited to perform at Radio City Music Hall in New York for the annual Mandela Day Concert. Clegg actively performs across the country, bringing a clarion, hard rock style of music to audiences.