Iconic Reggae Musician
One of the most iconic reggae performers of South Africa is undoubtedly Lucky Dube. He was the country's biggest-selling reggae artist, and created an esteemed legacy within the SA music industry during his performative years.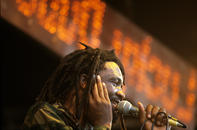 ©Eric Miller
His easy-flowing melodies had a traditional feel, as he made use of traditional African instruments and indigenous beats. In his later years, became a talented lyricist and wrote music with a strong message of empowerment, liberation and the need for activism.
Lucky Philip Dube was born in 1964 in Mpumalanga (formerly known as the Eastern Transvaal) and grew up with his two siblings and grandmother. He had a great love for her and noted her to be his biggest inspiration. As a young teenager, Dube sought work as a gardener, later attending school and studying in English and Afrikaans.
He joined the school choir and later formed the ensemble The Skyway Band with friends. He found music to be his escape from the hardships of his life. It was also at school that Dube discovered the Rastafarian movement, and although he was never strictly practicing, he wore his hair in dreadlocks which lent him the air of a Rastafarian.
Mbaqanga Man
In 1928, 18-year-old Dube joined his cousin's band The Love Brothers and focused on playing traditional Zulu music known as Mbaqanga. In the same year, he recorded his first album 'Lucky Dube and The Supersoul' with The Love Brothers.
He did not complete school as he wanted to focus on music, gaining popularity with his second and third albums. After the release of his fourth album, he became commercially successful in the Mbaqanga scene.
Although Dube's music was heavily influenced by traditional sounds, fans preferred his reggae music, which was featured in hits 'Reggae Man' and 'City Life'. He and long-time sound engineer Dave Segal decided to make a Reggae album, drawing inspiration from legendary musicians Peter Tosh and Jimmy Cliff. Dube enjoyed Reaggae because of its socio-political message, and as a black musician trying to make a career during the oppressive years of apartheid, he was drawn to the sound.
His first Reggae album 'Rastas Never Die' was released in 1986 and although it was not financially viable at first, it became more popular over the years. Dube then became an icon of the Reggae sound, and the release of his second album 'Think About the Children' was much more successful. It reached platinum status in SA and firmly established Dube's career.
Dube Legacy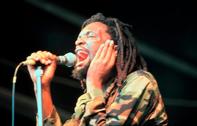 ©Eric Miller
Dube continued to record commercially successful songs that had a lively, easy-flowing sound and traditional beat. He then dipped into the waters of song-writing, creating a strong political voice and writing songs with themes of injustice, adversity and the struggle for freedom. In 1989 he won four OKTV Awards for his album 'Prisoner', won another for 'Captured Live' the next year and another two for 'House of Exile' in 1991.
In 1995, he was awarded a recording contract with international label Motown. 'Serious Reggae Business', a compilation album released in 1996, won him the title of "Best Selling African Recording Artist" at the World Music Awards and the "International Artist Of The Year" at the Ghana Music Awards. His next three albums each won a South African Music Award, and Warner Music released his album 'Respect' in Europe, earning Dube global recognition.
Dube shared the stage with various international musicians, including Sinéad O'Connor, Peter Gabriel and Sting. In the early 2000s, he performed throughout South Africa, earning national superstardom. In 2007, Dube was murdered in Johannesburg during a botched carjacking. Although his career was cut short, Dube's musical genius lives on - he was a humble man with a simple message, and his musical contributions has earned him a cult-like following in South Africa.