Musical Ambassador
In the South African sphere of soul, funk and R&B, no one quite holds a candle to the enigmatic Jennifer Jones. Her esteemed singing career spans over three decades, with various accolades and awards securing her position as a musical ambassador for South Africa.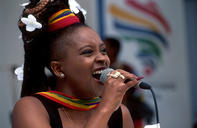 ©Eric Miller
Jones started singing gospel music during the early 1980s, gaining recognition in 1993 when she performed the title track, Body Talk, for the internationally released feature action film, Terminator Woman. In 1995, she performed at the opening and closing of the 1995 Rugby World Cup, which was a highlight of her career; she represented the changing South African music industry with vibrance and style. In 1996, she was signed to Sony Music and became the first South African artist to be signed by an international record agency.
Jones was a celebrity coach on the Afrikaans music competition, Supersterre, and has appeared on various Afrikaans television shows such as Noot vir Noot, Pasella, Kwela and Kom 'n Bietjie Binne, as well as English programs like The Felicia Mabuza-Suttle talk show and Dream School SA. She was part of the popular Skouspel festival in 2004 and 2005, and performed at the inauguration of both Presidents, Nelson Mandela and Thabo Mbeki. In 2013, she released her second album titled ReNewed and went on to perform with fellow South African artists Vicky Sampson, Dozi, Kurt Darren and Yvonne Chaka Chaka.
Jones continues to perform locally and is involved with various charity organisations, such as The Tomorrow Trust organisation. She currently owns and runs her own artist management company and booking agency based in Gauteng. Jones is a true ambassador for South Africa's culture, artists and the entertainment industry in general.