Sweetheart of Fusion Music
Claire Johnston, the South African sweetheart of fusion music band, Mango Groove, was born in England on 16 December 1967. At age three she moved with her family to South Africa and years later through her music came to symbolise the cultural diversity of South Africa.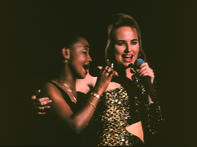 From a young age, her creative spirit was apparent. Particularly so, when at the age of ten she performed at a Johannesburg production of the musical Annie. Her talent for the performing arts soon found a focussed outlet in the form of the musical group, Mango Groove. She was 17 years old at the time of joining the popular band as their frontwoman.
Mango Groove gained international renown - performing in Hong Kong, Paris, London and Sydney and achieved platinum status 15 times in South Africa (SA). The band also created the music which accompanied the broadcast of Nelson Mandela's release from prison in 1994. Other notable achievements include playing at the SOS Racism concert in Paris and performing via satellite recording in the global Freddy Mercury Tribute Concert. To date, the band has delivered six studio albums, with their latest musical offering being the 2016 Faces of the Sun album.
The band's most iconic song, Special Star, is known to get everyone up on their feet. With its trademark pennywhistle beginning - a somewhat gloomy tone that soon makes way for an uplifting beat, the song captured the hearts and feet of many South Africans when it was released in 1989, and it still does today.
During the band's hiatus, Claire produced her own music, two solo albums. The first of which, titled Fearless was produced in 2001. Her second solo album, Africa Blue was produced in 2004. Her second music offering is said to represent a personal interpretation and celebration of the diverse music originating from the African diaspora.
Claire is the natural go-to choice for international events like the Springbok rugby union and she was involved in the 1999 All-Africa Games as well as South Africa's bid for the 2004 Summer Olympics. In 2005 she opened for Belinda Carlisle, an American pop singer-songwriter and sang the South African national anthem, Nkosi Sikelel iAfrika, at the 2012 Olympic Games.
Other achievements include her collaboration with Jeff Maluleke, when they produced a conversation-themed album, Starehe: An African Day in 2003, which was then later released in 2006. The eco-centred album's existence was to raise awareness and funds for various conservation efforts. Claire is also the first SA patron of the global Born Free organisation.