Alternative Afrikaans Movement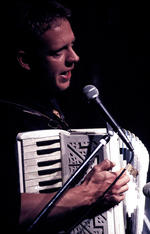 ©Eric Miller
A name synonymous with the loud, rebellious Afrikaans youth movement of the 1990's, Johannes Kerkorrel defined alternative Afrikaans music scene in South Africa. He was part of a revolutionary group of Afrikaans musicians that refused to be restrained by the calvanstic Afrikaans culture.
Kerkorrel's music was blunt but beautiful, with satirical lyrics and memorable guitar melodies that revolutionized the Afrikaans music industry. The emotive, bluesy feel of Kerkorrel's distinctly political songs such as 'Donker Donker Land' and 'Sit dit Af' created a harsh dichotomy within the Afrikaans community, and led to the creation of an iconic genre of music.
Born Ralph John Rabie, Kerkorrel grew up in a traditional Christian Afrikaans house. When his parents realised he was musically inclined, they bought him an organ ('orrel' in Afrikaans, which served as inspiration for his stage name). During his pre-teen years he studied classical music and played the organ at local weddings. In high school, Kerkorrel started playing the guitar. Although he had dreams of becoming a singer, Kerkorrel went on to study journalism and worked as a reporter in both Cape Town and Johannesburg while playing music part-time.
Kerkorrel's career took off in the mid-1980s when he workshopped a cabaret with friends that was performed at the infamous Black Sun Theatre. He then moved to Hillbrow, a famous suburb in Johannesburg, where he and André Letoit (who would later change his name to Koos Kombuis) started performing together.
Kerkorrel formed the Gereformeerde Blues Band (the Reformed Blues Band) which took the Afrikaans music scene by storm - it was unlike anything the community had heard before. It exposed the new generation of Afrikaners to unconventional and different political views, as well as alternative pop and rock sounds.
In 1985, the band released the album Eet Kreef, which a commercial success despite its tracks being banned from radio airplay by the state-controlled South African Broadcasting Corporation.
They performed regularly at Black Sun Theatre and as their fan base grew, their influence spread throughout Johannesburg.
Voëlvry Tour
In 1989, Kerkorrel, his band, Koos Kombuis and James Phillips launched the Voëlvry tour, which saw them perform at various universities across South Africa. The tour ignited the anti-government movement amongst Afrikaners, specifically the youth. Kerkorrel was the spokesman of the movement, attracting a cult following that was eager to hear his message. The reinvention of Afrikaans popular music became known as the Voëlvry movement, which spoke to the absurdity of South Africa's authoritarian, patriarchal culture.
The tour sparked major controversy, and Kerkorrel was placed under surveillance by the South Africa police force, and it received a lot of negative press. The musicians used pop melodies and rock instruments to represent traditional Afrikaans songs and symbols, and their most notable hits include 'Sit dit af', which commented on the then Prime Minister of South Africa, PW Botha, 'Halala Afrika' and 'Hoe ek voel'.
Following the tour, Kerkorrel visited Amsterdam in 1990, and has successful performances in the Netherlands and Belgium. He enjoyed solo career in Belgium for various years, and collaborated with the Dutch cabaret artist Stef Bos, who later became famous in South Africa.
In 1994, the country abolished apartheid and tranisitioned into democracy. Kerkorrel was invited by former president Nelson Mandela to perform at his inauguration, which was met with high praise. Kerkorrel continued to make music in the country, releasing various albums, most notably 'Koos du Plesis' and 'Die Ander Kant'.
Kerkorrel Legacy
Kerkorrel's pop-fueled, tongue-in-cheek music changed the way the Afrikaans youth saw the country and the grotesque apartheid system. His riotous concerts gave many of his fans the courage to reject their stiff and biogeted upbringings. It was all about rock-'n-roll, speaking your mind and leaving childhood ideals behind. His music has had a lasting impact on the Afrikaans music scene, with contemporary musicians like Karen Zoid and Francois van Coke drawing inspiration from his controversial songs.
In 2002, Kerkorrel committed suicide after a battle with depression. Although his life was cut short, his legacy has been firmly cemented in the country's music industry. He encouraged a new generation of Afrikaans youth to think and speak for themselves, and create their own future. He was not a political person, but he strived to capture the essence of rock and pop music in a time that Afrikaans culture needed to change.