Johnny Clegg is one of South Africa's most popular musicians of the 21st century. His infectious crossover of traditional Zulu sounds and Western rhythms made him a pioneer in the SA music industry. He broke barriers through song and dance, during a time when racial tensions ran high and hope was fleeting.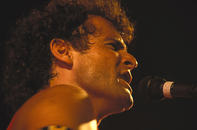 ©Eric Miller
Johnny Clegg performing as a young musician in the 1970's.
His outspokenness against apartheid and the hate it caused allowed him to express a vision of a better South Africa through his music. He is fondly known as Le Zulu Blanc, the white Zulu, by fans worldwide. Clegg's career spans over 3 decades: he has sold over five million albums all over the world, and has toured extensively in the USA, the UK, as well as Europe and Asia.
His stellar performances never fail to captivate and delight audiences - his energy on stage is infectious. Always upbeat and lively, Clegg has been honoured with numerous local and international awards throughout his career. Clegg was born in 1953 in Bacup near Rochdale, England but spent his early years in his mother's home country of Zimbabwe.
They moved to South Africa when he was seven. His mother was a jazz singer and his step-father a crime reporter, so he got extensive exposure to different cultures and lifestyles of South Africa. He thus had a broader perspective than most of life in South Africa.
Juluka and Savuka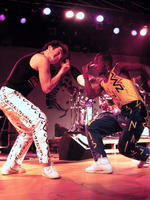 ©Eric Miller
Johnny Clegg and Sipho Mchunu (Juluka) performing in the late 1970's.
In the 1970's Clegg went on to study and lecture Anthropology at the University of the Witwatersrand in Johannesburg. Whilst lecturing at WITS he had the novel idea of mixing Western lyrics and melodies with traditional Zulu musical structures. The innovative blend of music was unheard of at the time.
Clegg came in contact with South African producer Hilton Rosenthal, who signed Clegg and his song writing and performance partner Sipho Mchunu to his independent label. The duo called themselves 'Juluka' and almost immediately, their music was met with controversy. It was censored and restricted by state-owned radio stations, and it was heavily frowned upon that the duo was of different ethnicity.
They toured the whole country in order to reach their audiences, but that put them in violation of the Group Areas Act, which was the geographical separation of race groups. Although Juluka faced many adversities, their music grew popular among those who believed in their message and fusion of cultures.
They were particularly popular amongst students and migrant workers. In 1979, Juluka's debut album 'Universal Men' was released. The album told the story of a Zulu migrant worker's daily life, travelling to work and back home, and the emotions that go with it. In 1981 they released the album 'African Litany' which received critical acclaim.
The album stayed true to its roots but explored a broader South African narrative. Although the government and specifically the SABC ignored the band because of their controversial mix of languages and music, Juluka gained a cult following and their performances would sell out.
Clegg followed with another album, Ubuhle Bemvelo, which was entirely in the Zulu language, but still with the unique blend of musical genres of Western and African rhythms. The height of Juluka's career was during the 1980's, when they gained international recognition and started performing in the USA, Canada and Germany. The two albums that followed were 'Work for All' and 'Musa Ukungilandela'.
The band split up in 1985, and Muchunu returned to farming in Zululand, while Clegg continued his music endeavours. Juluka was an innovative band that brought about an era of new energy and sounds to the South African music industry. After the breakup of Juluka, Clegg formed the band Savuka, which means 'we have risen' in Zulu.
The new band still had a great fusion of traditional and Western sounds, but was broadened with rock melodies. In 1987 they released 'Third World Child', which went on to break international sales records in Europe. They released four more albums, Shadow Man in 1988, Cruel Crazy Beautiful World in 1889, Heat Dust and Dreams in 1993 and the Best of Johnny Clegg and Suvuka - My African Dream in 1994.
Johnny Clegg and Savuka toured extensively throughout Europe and America from 1988 to 1993, becoming highly popular in France where they broke all previous attendance records in 1988 and 1989. The band broke up in 1993.
Clegg Legacy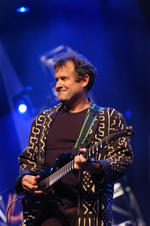 ©Eric Miller
Johnny Clegg performing at the Cape Town International Jazz Festival in 2005.
Three years after Suvuka disbanded, Clegg temporarily reformed Jaluka with his old friend Mchunu and recorded Crocodile Love. Clegg then dived into solo projects, which were runaway successes. As South Africa transitioned from apartheid to democracy, Clegg gained more creative freedom and had more space to express his artistic endeavours.
He released 'New World Survivor' in 2002, 'A South African Story' in 2003 and 'One Life' in 2007. These were all personal reflections on his life that maintained his distinctive sound and mix of local and international flair. In 2004, Clegg embarked on a 4-month tour through Europe and North America.
In 2008 he performed at several large festivals, including the New Orleans Jazz-fest and Milwaukee Summer Fest in the US, and the Festival de Cornauille in France. Clegg was a firm favourite at Nelson Mandela's 46664 Aids Awareness Concerts, where he performed the song 'Asimbonanga', co-written by freedom fighters as a struggle song, alongside Nelson Mandela himself. The song is charged with emotion, at live performances, the audience rose to their feet to celebrate South Africa's freedom.
Clegg has written and performed some of South Africa's most famous songs, all hauntingly beautiful and awe-inspiring. A continuous thread through his songs are the many emotions that come with being South African: facing our past, celebrating our future and embracing our country for all it is.
You will most likely hear the songs 'Impi', 'Great Heart' and 'Scatterlings of Africa' echoing through sports stadiums and gatherings to awaken national pride. Listening to Clegg's musical offerings is almost healing; it reminds us to have hope and face adversity head-on, together as a nation and world. In 2015, Clegg was diagnosed with pancreatic cancer and embarked on a 'Final Journey' tour in 2017. He continues to perform and inspire fans around the world.
The legacy Clegg has built is one of note. In a time when South Africa was not ready to change, Clegg changed it. He took something as simple as music and turned it into a tool for breaking down barriers and hope for a better future. He chose to walk a difficult, restricted path with absolute passion and perseverance.
With great sadness, Johnny Clegg passed away, surrounded by his family at his home in Johannesburg, on the 16th of July 2019, after a 4 year battle with pancreatic cancer. Johnny Clegg will forever be remembered for his inspiring music, which impacted not only South Africa, but the whole world. His adoring fans will always have his beautiful lyrics and uplifting melodies to remember him by.