Faith through Song
Andre De Villiers is a South African singer-songwriter. He began his remarkable music career as the lead singer of the hybrid 60s Jazz/Rock band, Hammak. With a total of 15 albums in his creative quiver and credited with several award-winning compositions for TV commercials for brands such as South African Airways, Volkswagen, Lufthansa, and McDonald's, Andre's musical output is formidable.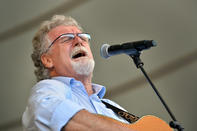 ©Eric Miller
He has toured all over the world, namely across Europe, Australia, and the United States visiting theatres, universities, and prisons. Sharing his musical gifts and relaying the message of faith is something dear to the singer's heart - using his personal experiences, which range from good and bad times to inspire others through his gospel music.
Through the years, Andre has collaborated with several musicians from iconic bands such as Chicago, Dolly Parton band, Joe Bonnamassa band, Blood sweat and tears and the David Letterman band.