Capetonian Creative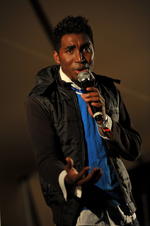 ©Eric Miller
Emo Adams performing at the Solms Delta Oesfees in 2010.
South African singer, actor and producer Emo Adams took the country's creative industry by storm in the early 2000's. His artistic expression through song, theatre and production has made him a household name in SA. Born in 1987, Adams grew up on the Cape Flats and was surrounded by music - his father was an avid music-lover and his older brother Luqmaan is a musician.
At the age of 9, Adams was cast in a theatre production of District 6: The Musical, written and produced by the legendary David Kramer and the late Taliep Pietersen. The theatre bug bit him, and his artistic journey had begun. He spent the majority of his teenage years singing in Cape Malay choirs and performing during festivals.
Although he went on to complete his tertiary education, his love for performing ultimately shaped his career path. In 1996, Adams and his brother formed a five-member boy band called JAG. The band gained popularity in the Cape region, the Eastern Cape and Johannesburg, and was known for their energetic live performances.
In 2001, he once again starred in the production of District 6: The Musical, this time playing the role of a glamorous drag queen. The following year, he toured extensively in Germany as part of the cast of the production Kat & the Kings. In 2006, Adams branched into acting and played a lead role in the kykNET television series Alie Barber.
He was a frequent musical guest on television programmes such as Noot vir Noot and Liriekeraai. His debut album 'Tall, Dark & Afrikaans' was released in 2007 and was received with commercial success.
He also has his own show, 'Jou Show met Emo' on kykNET. Adams embraces his Malay and Afrikaans heritage and follows the beat of his own drum. He is a prominent figure in the creative community of South Africa and continues to produce television programmes and music.