South African Band
Hatchet Man is a South African band that blend elements of rock and folk music to create a sound wholly their own. Originating from Cape Town, the band has seen many changes throughout the years from being a four-part musical outfit to a three-part band to its current iteration as a two-part musical duo.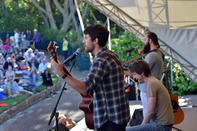 ©Eric Miller
The band's choice of name is a result of their musical offering cutting through the non-essential static of life and reaching a core truth. This is reflected in their lyrical themes - love and the layered aspect of life. This coupled with the melodic mixture of funk, rock, and folk makes for a distinguishing sound that has captivated music lovers for years. Their sound has been likened to that of American folk-rock group, Crosby, Stills, Nash & Young, who are known for their detailed vocal harmonies.
Two-part Musical Duo
The band's current members are Matt Catto - vocals and cajon, and Jonathan Tait - vocals and acoustic guitar.
Matt Catto comes from folk music royalty, the Blundell family, who were a musical family particularly known for their captivating folk music and a musical series that aired on South African television decades ago called Keith and Kin. Matt was part of several bands throughout the years, finally finding the right fit in the form of Hatchet Man.
Jonathan Tait has played music since his school days. His musical career began in the choir and soon included piano lessons and trombone-playing while he was in high school. Not satisfied with his musical repertoire, he included the guitar at the age of 15. Now an acoustic guitar (as well as electric) player, Jonathan is also known for his songwriting. He too was a member of different bands before finding Hatchet Man.
Awards and Recognition
The folk-rock band has played at festivals and events across South Africa, including at the Cape Town Folk and Acoustic Festival. In 2015, Hatchet Man made their musical debut at the Grahamstown National Arts Festival. That same year, they won the Silver Ovation Award and two years later, won the same award from the National Arts Festival.