Queen of African-American Soul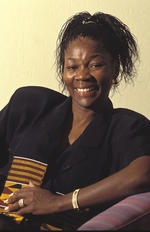 ©Eric Miller
Letta Mbulu, Queen of African-American Soul.
The regality of Letta Mbulu is never lost on anyone in her presence. The legendary jazz singer has never been one to shy away from her dreams, and her warmth and sophistication have ensured her illustrious career's longevity. Mbulu was born and raised in the township of Soweto, where she started singing in her early teen years. While still a teenager, she toured the country with the South African musical production of King Kong, later extending to Europe.
As the apartheid regime loomed over people of colour in the 1970s, Mbulu went ito the United States. Where, in exile, she continued to pursue music. She toured with jazz alto saxophonist, Cannonball Adderly, and also went on to join forces with American singer, Harry Belafonte. Together they went on several world tours. Her main musical influences became folk, American Jazz and Brazilian music.
Mbulu met and married South African musician, Caiphus Semenya, with whom she has recorded a number of hit songs. While in exile, she released numerous albums from 1967 to 1983, which all achieved relative success. Songs like "I Need Your Love," "Buza," and "Everybody Sing Along" are soulful tributes to her heritage. "There's Music in the Air" is definitely a fan favourite and an example of how powerful a musical instrument of nature Mbulu is.
Mbulu also ventured into acting while in America, starring in the film Roots, for which she received an Emmy Award. Her other screen credits include A Warm December and The Color Purple. She also collaborated with the late icon, Micheal Jackson on his song "Liberian Girl", one of many milestones in her career.
She is a founding member of the organisation, South African Artists United (SAAU), which produced thepolitical and historical musical, Buwa, with Mbulu in the leading role. Upon her return to South Africa in 1992, Mbulu and her husband produced the hit album, "Not Yet Uhuru", which received critical acclaim and connected her to South African audiences.
In 2001, Mbulu received a South African Music Award for her lifetime achievement in the music industry. Her home in Orlando East, Soweto is decorated with a Johannesburg Heritage Site Blue Plaque to honour her legacy and contribution to the SA jazz scene. Her joyful, memorable songs are magnificent examples of African-American soul, and she continues to wow audiences as she and her husband perform at various local festivals.
Mbulu's South African compilation of Greatest Hits is available on iTunes.