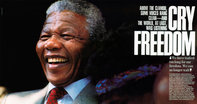 Nelson Rolihlahla Mandela is a former president of South Africa, the first to be democratically elected after the apartheid system was abolished. He held office from 1994 until 1999. Before his presidency, Mandela was an anti-apartheid activist and a political revolutionary.
He was the leader of the African National Congress's armed wing Umkhonto we Sizwe, and was accused of sabotage and other related crimes as he fought against the oppressive apartheid system. Nelson Mandela served 27 years in prison, serving majority of his sentence on Robben Island.
After his release from incarceration in 1990, Mandela ensured that a peaceful transition between apartheid and democracy took place in South Africa. He has received the Nobel Peace Prize for his work, as well as numerous honorary doctorates and awards. He was a global icon known for his extraordinary leadership.
Nelson Mandela is often referred to as Madiba, an honorary title adopted by elders of Mandela's clan. He was a respected, adored figure in South Africa and his legacy lives on long after his passing.