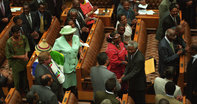 © Eric Miller
Commander in Chief of MK to President of South Africa
Formation of Umkhonto we Sizwe
Mandela and the All-In National Action Council decided to arrange demonstrations against the proclamation of South Africa as a Republic on 31 May 1961. They wanted to arrange for a three-day stay-at-home strike on 29, 30 and 31 May 1961. Mandela had to go underground, to avoid arrest. Mandela and Walter Sisulu travelled the country in secret arranging the specifics of the strike.
Mandela (nicknamed the Black Pimpernel at the time) was a fugitive for almost a year and a half. After large police roll-out on the strikers, Mandela called the strike off on the second day. During this time, he and some of his colleagues decided that violence in South Africa was inevitable and that African leaders could not continue their non-violence policy when the government met human rights demands with violence and force.
The decision to form MK (Umkhonto we Sizwe – the Spear of the Nation), was not by the ANC, but certain people in the ANC decided to create it. Nelson Mandela was MK's first Commander-in-Chief.
The Imprisonment of Nelson Mandela
In 1962 Mandela crossed the border in secret to make a surprise appearance at the Pan-African Freedom Movement Conference in Addis Ababa. He explained to the conference why Umkhonto we Sizwe had to make their initial attacks.
On his trip, he got guerrilla training in Algeria and travelled to London where he met with leaders of British opposition parties. When Mandela returned to South Africa, he was captured on 5 August near Howick in Natal. Mandela was tried in Pretoria's Old Synagogue and in November 1962 sentenced to five years imprisonment for incitement and illegally leaving the country.
He began this sentence in Pretoria Central Prison. While Mandela was in prison, police raided the underground headquarters of the ANC at Liliesleaf Farm in Rivonia, arresting members like Walter Sisulu, Govan Mbeki, Raymond Mhlaba, Ahmed Kathrada, Dennis Goldberg and Lionel Bernstein.
Police found documents relating to the manufacture of explosives, Mandela's diary of his African tour and copies of a draft memorandum - 'Operation Mayibuye' - which outlined a possible strategy of guerrilla struggle.
Life Imprisonment
In October 1963 Mandela was brought from jail to join the other eight accused on trial for sabotage, conspiracy to overthrow the government by revolution, and assisting an armed invasion of South Africa by foreign troops. Mandela's statement from the dock was, "I am Prepared to Die" which received worldwide publicity.
On 12 June 1964, all of the accused were sentenced to life imprisonment. The following evening Nelson Mandela was flown to Cape Town en route to Robben Island Prison where he was held until April 1982, when he was transferred to Pollsmoor Prison near Cape Town. A massive 'Release Mandela Campaign' was launched in 1982, in South Africa and abroad.
A lot of foreign countries put pressure on the South African government to release Mandela, who at that point was the world's most famous political prisoner.