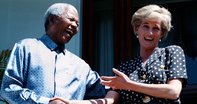 © Eric Miller
Madiba in a Springbok Shirt
It is quite remarkable how Nelson Mandela has been transformed in the public mind from Public Enemy No. 1 into a kind of superstar who is regarded as "our President" by most South Africans, even those in the white right wing establishment. It was not simply because he donned a Springbok jersey at the final game, which gave South Africa the World Cup in its first appearance in that prestigious competition, though this gesture made an overwhelming impact.
A man who claimed to be a member of the rightwing AWB (Afrikaner Weerstandsbeweging or Afrikaner Resistance Movement) called the talk radio station, Radio 702, the following Monday and said the President's support for the Springboks had made such an impression on him that he had wrestled all weekend with his beliefs and decided that morning to resign.
But it was not only the President's appearance at Ellis Park in the green and gold jersey with the number 6 on the back (the number of Springbok captain Francois Pienaar), it was the steadfastness of his support for the national team. He had called the Springboks on several occasions to wish them well.
He also went out on a limb with his public request that the Springbok emblem be retained, despite the opposition of many blacks who regard it as a hated symbol of apartheid and seek to have it replaced by the colourful Protea flower.
A Touch of Madiba Magic
The many meetings with the Freedom Front's General Constand Viljoen over the Volkstaat issue have also contributed to his standing among Afrikaners and so did his meetings with the largely Afrikaans Nationalist-based agricultural unions to discuss their problems.
But though the gestures were important, they do not fully account for the dramatic reversal of his status among Afrikaners. It had a lot to do with his charm, courtesy and sincerity, but also with his special touch of magic.