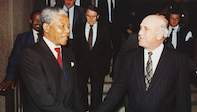 © Eric Miller
Secret Meetings
Whilst in prison Nelson Mandela had to overcome internal problems before he could proceed comfortably with his negotiations with the Apartheid Government; he had to gain the support of his fellow prisoners to embark on talks with government leaders and a number were opposed.
He also had to convince the exiled leadership that the strategy had a win-win quality to it. So the negotiations began fitfully and nervously with government leaders frightened out of their wits that someone would tumble to them. But, incredibly, despite the presence of a huge foreign press corps populated by many of the world's most astute and able journalists and prying local newsmen, the secret negotiations remained under wraps.
Even when prisoner Mandela was released in February 1990, the secrets were kept. But new talks in the open began. He entered into peace negotiations and soon suspended the ANC's "armed struggle" by the movement's armed wing, Umkhonto weSizwe (MK or the Spear of the Nation), which he had founded in 1961. He immediately ran into criticism from his more militant followers and members of the other liberation movements, but he persisted.
A Remarkable Man
At this time as the negotiations slowly gathered momentum he adopted a trusting attitude towards President de Klerk, who, in turn, described him as "a remarkable man". Looking back from the post election period, it is clear that ex-prisoner Mandela, who regarded himself as a man of integrity seeking a genuine relationship with his former oppressors, looked on de Klerk in a similar light and that he, too, was seeking a stable, democratic future for the country.
Towards the end of 1990 I had the opportunity of extending to him an invitation from the prestigious editors and publishers body, the International Press Institute, to address its annual general assembly in Kyoto, Japan, the following May. He could not accept until the ANC's national executive committee had approved, so there were several meetings between him and I. At one of these, we touched on De Klerk with an astonishing burst of candour — especially from a man leading a revolution, albeit negotiated.
"We must help that man," he said. "He has a lot of trouble in his party. " This, indeed, was not an aggressive revolutionary but a sensitive statesman who realised the importance of De Klerk maintaining the leadership and control of his National Party, and especially its wild men, who, if they supplanted him, could end the negotiations and create chaos. He believed that De Klerk was having an uphill battle in his party with members who thought the negotiations would lead to their extinction as a people.
Dirty Tricks Campaign
Little did ex-prisoner Mandela know that Nationalists, members and ex-members of the Security Forces and civil servants or right wingers with links with these services had embarked on a "dirty tricks" campaign to try to weaken the ANC and strengthen the support for his only black opponent of stature, Inkatha Freedom Party leader Mangosuthu Buthelezi.
It was quite clear that ex-prisoner Mandela trusted De Klerk. When ANC investigators handed him dossiers showing that there was a "Third Force" actively undermining stability in the country and trying to weaken the ANC, he handed them over to De Klerk for investigation, trusting that De Klerk would have the allegations contained in those dossiers diligently pursued.
Instead, they were handed to senior police officers who some years later were exposed as being the masterminds of the "dirty tricks" and other destabilising campaigns against the ANC. Those dossiers contained names of informers, many of whom simply disappeared.
Breach of Faith
It was only later that President Mandela lost faith in De Klerk. It was over the appointment of a new board of governors for the state broadcaster, the South African Broadcasting Corporation, which then was tightly controlled by the National Party government.
Over a period of several months in 1992 and 1993 the Campaign for Independent Broadcasting (now formed with other organisations into the Freedom of Expression Institute) had wrested the broadcaster from the control of the government by forcing it to agree that a new independent board should be appointed by a process involving public hearings of candidates before a selection panel.
The panel was to select 25 names which were to be sent to De Klerk, then the president, for appointment to the board.
A key feature of the agreement between the CIB and the government was a further agreement between Nelson Mandela and De Klerk that De Klerk would have the right to refer names that he disapproved of back to the panel for reassessment, but before doing so would discuss his objections with Mandela so that they might resolve the issue.
De Klerk did indeed refer seven names back to the panel, but went further and summoned panel members to meetings where he argued with them. He never discussed his objections with Mandela, who regarded this as a breach of faith.
This led to bitter attacks by ex-prisoner Mandela on De Klerk, especially during a ceremony at Independence Hall in Philadelphia in the United States where both received the Liberty Medal from President Bill Clinton on America's birthday, July 4, 1993.
Political Dissension
Although President Mandela believed that De Klerk either was aware of the plans to weaken the ANC or did nothing to stop them, he decided in the interests of preserving the government of national unity and of maintaining stability in the country to put the dispute behind him.
Their relationship on the surface was friendly and they maintained a dialogue, though there was still political dissension between them. President Mandela goes back to Robben Island on occasion to show the conditions endured by him and his colleagues during their long imprisonment.