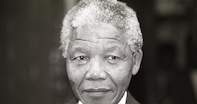 © Eric Miller
Mandela's Kindness
My family has had personal experience of Mandela's kindness. In January 1986, my son, Gideon, was celebrating his bar mitzvah, the Jewish rite of passage to manhood at the age of 13. I had visited Mandela at Pollsmoor prison a few weeks earlier and told him about it. He must have gone to some trouble to get hold of quality paper and he wrote a note of good wishes to Gideon.
Four years later, when Mandela was released from prison, I phoned him from London where we were living. After welcoming him to freedom I gave the phone to Gideon who started by saying 'Hello Mr Mandela' — and back came the deep, booming voice, 'What's this Mr Mandela? Call me Uncle Nelson.' It left Gideon with stars in his eyes. Later, Mandela went out of his way to help my daughter Jennifer. He enabled her to join him on African presidential planes when, in 1991, he visited West Africa for the first time in 30 years.
Then he had been seeking support for the ANC after slipping out of South Africa. Now he had iconic status and was greeted rapturously. She produced and directed a documentary about his visit, 'The Last Mile: Mandela, Africa and Democracy'.
One scene showed him on Goree Island, off the coast of Dakar, from where millions of slaves had been shipped to the Americas; and it also contained relaxed and personal moments as he talked about his life and his hopes for the democracy-to-come in South Africa.