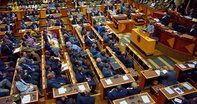 © Eric Miller
Destined to Be Chief
All his life President Mandela has been in training for the leadership role he plays today. Nelson Rolihlahla Mandela (in Xhosa, Rolihlahla literally means "pulling a branch off a tree" but the more accurate colloquial meaning is "troublemaker") was born on July 18 1918, at Qunu, near Umtata in the Transkei, the son of Nonqaphi Nosekeni and Henry Mgadla Mandela, chief councillor to the paramount chief of the Thembu.
He spent his early childhood in the Transkei being groomed to become a chief. His father died in 1930 and he became the ward of his cousin, the acting paramount chief of the Thembu, David Dalindyebo.
He matriculated at Healdtown Methodist Boarding School and went on to Fort Hare University College where he gravitated into student politics. There, too, he met Oliver Tambo who later became President of the ANC. Both were expelled in 1940 for participating in a student strike.
Founding of ANC Youth League
Mandela moved to Johannesburg — propelled in part by a desire to avoid an arranged tribal marriage — and got a job on a gold mine as a policeman. Shortly afterwards he was found by relatives and he promptly went into hiding. He met Walter Sisulu, who like Tambo became a lifelong friend. Sisulu aided him to obtain articles with a legal firm.
He finished his BA degree by correspondence and went on to complete his LLB at the University of the Witwatersrand. He was admitted as a lawyer in the early 1950s and opened a practice with Oliver Tambo. It was the first black legal partnership in the country.
They were harassed by the authorities who wanted to move them out of "white Johannesburg" to "the back of beyond'. They also tried to have Mandela's name struck from the roll of attorneys. By then, Mandela was a leading member of a 60-strong group of young ANC members who had become impatient with the ANC's leadership tactics of constitutionalism and polite petitioning of the government.
Earlier he had decided to build the ANC into a mass movement by fostering radical African nationalism and self-determination. The first step taken in 1944 --- was the founding with Sisulu and Tambo of the African National Congress Youth League (ANCYL), of which he became national president in the late 1950s.
The ANCYL demanded full citizenship and direct parliamentary representation for all South Africans, land redistribution, trade union rights, free and compulsory education and a cultural programme. So was born the Defiance Campaign of the 1950s of which he became national "volunteer-in-chief". Their first acts were to break curfew regulations. Now began the period where Mandela was in an almost constant confrontation with the authorities.
Nonracial United Action
At first Mandela and his colleagues were distrustful of other racial groups and followed the general Africanist trend. But during the Defiance Campaign, he began to modify his views and later became a firm proponent of nonracial united action. In 1952 he and a number of others were arrested and charged under the Suppression of Communism Act.
He was convicted and given a nine-month jail sentence suspended for two years. He was also banned from attending gatherings and barred from leaving the Johannesburg area. As soon as his banning orders expired they were punctually renewed and this went on for the next nine years, but he continued to work with small groups and instituted a cell system in ANC branches in preparation for the possibility of underground activity.
Treason Trial
In December 1956 he was one of 156 political activists who was arrested and charged with high treason. This became the famous "Treason Trial" which attracted worldwide attention and lasted nearly five years. Mandela and another accused had conducted the defence after their lawyers withdrew during the 1960 state of emergency. In the end they were all acquitted.
The ANC was banned in 1961. Mandela went underground and became known as the "Black Pimpernel" as he evaded the police for 17 months. From time to time he would electrify black audiences by appearing at meetings, making a speech and disappearing. He was conducting a campaign for a national convention to draw up a democratic constitution, as well as organising stay-at-home strikes and demonstrations. At least one enterprising newspaper reporter, Peter Hazelhurst, interviewed him at this time.
Hazelhurst was picked up at a rendezvous in the city, blindfolded and then driven round in circles to confuse him. Sometime later he found himself in a room. The blindfold was removed and there was Mandela. His report of Mandela's demands appeared in the Sunday Express and infuriated the authorities.
They wanted to know where Mandela was, but Hazelhurst could not tell them, partly because he had given his word he would not do so, but also because he had no inkling where he had been taken to. But that interview rankled with the government.
Rand Daily Mail
Some 12 years later when then Prime Minister Vorster questioned me about the conduct of the Rand Daily Mail, of which I was an editor at the time, the issue obviously still rankled. He asked, "Why did you not tell us where Mandela was when a reporter from your paper interviewed him when he was on the run in 1961?" Vorster's Security Police, who had briefed him before our encounter, had got it wrong. It gave me little pleasure to have to tell Vorster that he was accusing the paper that had been scooped by a sister publication. Vorster, of course, was the Minister of Justice at the time of Mandela's exploits and the "Black Pimpernel" had made fools of his police.
End of Freedom
During this period he was smuggled out of the country and made a surprise appearance at the Pan-African Freedom Movement Conference in Addis Ababa in January 1962.
He travelled to London and met leaders of British opposition parties. He also underwent guerrilla training in Algeria. Mandela moved around the country frequently disguised as the chauffeur of theatrical producer Cecil Williams, a member of the ANC's armed wing.
It was on a trip from Durban to Johannesburg that he was finally caught with Williams in a police trap near Howick in Natal. That was to be the end of freedom for more than 27 years.