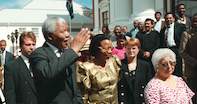 © Eric Miller
The Project is a World First
Kofi Annan described a unique group assembled by Nelson Mandela in Johannesburg in 2007, to form an elder statesmen's think tank to try to find solutions to some of the world's intractable problems. Among them were such eminent persons as former United States President Jimmy Carter, former Irish President Mary Robinson, philanthropist and economist Muhammad Yunus, former Chinese Foreign Minister Li Zhaoxing, and Annan himself as well as Nelson Mandela's wife, Graca Machel, a leader in education and the welfare of children.
Annan put it thus, 'As "elders", so to speak, we have a unique perspective to share, and, we believe, an obligation to share it.' The project is a world first, a fascinatingly novel exercise in bringing the wisdom, sagacity, experience, statesmanship and political acumen of men and women whose collective lifespan totals more than 1 000 years to bear on the some of the world's most difficult problems. The initiative was launched by Nelson Mandela together with Archbishop Desmond Tutu and Graca Machel.
Human Rights Tackled
Nelson Mandela, always the hard-headed, practical man with an eye on the sustainability and financial viability of his projects, Mandela announced where the backing for this unique enterprise of Global Elders will come from. He said the Elders would be independently funded by a group of founders, including Richard Branson and Peter Gabriel.
And he spoke of the other founders: philanthropists Ray Chambers and Michael Chambers; Bridgeway Foundation; Pam Omidyar of Humanity United; Amy Robbins; Shashi Ruia of the billionaire Indian Essar Group; Dick Tarlow; and The United Nations Foundation. The Group will meet at least twice a year.
Former Irish President, Mary Robinson pointed out that its work had already started with one of the first issues to be tackled is human rights. The Elders noted that the Universal Declaration of Human Rights would mark its 60th anniversary in 2008 and they could make the declaration 'a living document'. Here is a remarkable initiative, imaginative and bold in its concept.
Naturally, it remains to be seen whether or not it will achieve the goals the group sets for itself. But there is no doubt that it will make a considerable impact on the world and become a lasting monument to the influence and world stature of Nelson Mandela.