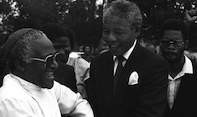 © Eric Miller
Are we Dreaming?
On Sunday after Nelson Mandela had been elected President, 30 000 people attended a thanksgiving service at the FNB Stadium near Soweto. I was sitting next to Nelson Mandela the President-elect and I asked him, "How do you feel? Do you think it is really happening?" Typically, he responded: "I remember what Leah is reported to have said in New York when the Norwegian Ambassador came to announce that you had won the Nobel Peace Prize for 1984."
He said, 'We pinched ourselves to make sure we were not dreaming."' I said "typically", because this man can be so regal and dignified, but also so incredibly humble and ordinary, and yet the whole thing still has a dreamlike quality. We have frequently to pinch ourselves to ensure that we are awake.
Universally Admired
On February 1990, this man was still a prisoner, having been held there for all of 27 years for having the audacity to claim that he and his people, yes, that they too were human and that they had inalienable rights, including the right to participate in the political decision-making process of their motherland.
For this cheek he and many others were incarcerated, others went into exile and yet others perished. Nelson Mandela was regarded by most white South Africans as a terrorist and perhaps as even the devil incarnate, best kept under lock and key. We have seen an extraordinary metamorphosis happening before our very eyes.
This one, for so long regarded as an ogre, has been transformed so that today he is revered by those who only recently execrated him. He can do no wrong. He has charmed even the most die-hard "bitter einde" — all eat happily out of his hand and he is without doubt the head of state most universally admired.
White South Africans have been bowled over by his remarkable magnanimity and willingness to forgive and to do almost anything to promote national unity and reconciliation, sometimes to the chagrin of some in the black community. "The man of destiny is great precisely because he is so human and has his foibles too." - Archbishop Desmond Tutu