An Imagined Playboy Image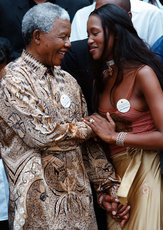 ©Eric Miller
At the end of the 1950s, Nelson Mandela was a deeply committed leader in the ANC.
He had been one of the moving forces in the ANC's Youth League, which had set the organisation on the road to modernity and confrontation with the apartheid government in bringing about a change in the national leadership in 1949'.
He had been the volunteer-in-chief of the Defiance Campaign in 1952, and had been elected leader in the Transvaal province and been forced out of it by government banning orders; since December 1956 he had been one of the accused in the ongoing Treason Trial. Despite all this, a playboy image clung to Mandela.
He wasn't quite serious about his politics was the whisper in some ANC circles. He was different from other leaders: tall, well-built and handsome, he dressed well, he had a reputation for enjoying socialising, he drove a car, and his wife, in his second marriage, was the beautiful and glamorous Winnie. And, of course, he had unusual status as one of the few black people who had qualified as an attorney.
Dared To Talk Back
As the years were to prove, the imagined image could not possibly have been further from the truth.
Mandela knowingly and willingly put himself into the cauldron of political involvement at a time when white power was total and heavy penalties awaited any black person who resisted or who even dared to talk back. Mandela had already had a taste of that in the magistrates' courts in which he practised together with his ANC colleague, Oliver Tambo.
Their firm occupied a few offices in Chancellor House across the street from the large courts building in Fox Street, Johannesburg, and around the corner from the basement offices of the ANC.
Appearing before the magistrates, all of whom were white, was not easy. The magistrates generally were at best uncomfortable, at worst hostile, at having to deal with a black lawyer.
They had to observe the forms of courtesy in their courts, but it was plain that some did not like having to treat a black man with politeness and as an equal in law. Mandela, when he appeared before them, was courteous but made plain that he was standing his ground.