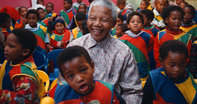 © Eric Miller
Goodest Man in the World
Nelson Mandela's 89th birthday celebrations rolled on into another party on Tuesday, 24 July 2007, at the Nelson Mandela Children's Fund offices in Johannesburg where a beaming Mandela cut a huge birthday cake, gave hugs and received gifts at his annual children's party. At his side was Graca Machel. The good wishes were spelt out by many of the 300 children infrequently exotic language.
One called him 'the angel of heaven'; five-year-old Robert wrote, 'You are the goodest man in the world'; Franco, four, said Mandela was 'the boss of the whole country', while Olerato, five, said, 'You are the best man ever'. Zolile Cele, eleven, gave Madiba a folding chair made by fellow pupils at the special needs Forest Town school in Johannesburg.
Speaking from his wheelchair, he said meeting Nelson Mandela was 'cool'; he was 'something big to me'. 'When Mr Mandela sees children, he just melts. He holds them very dear to his heart,' comments Tumi Mdwaba, spokeswoman for the Nelson Mandela Children's Fund.