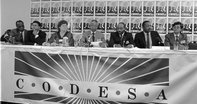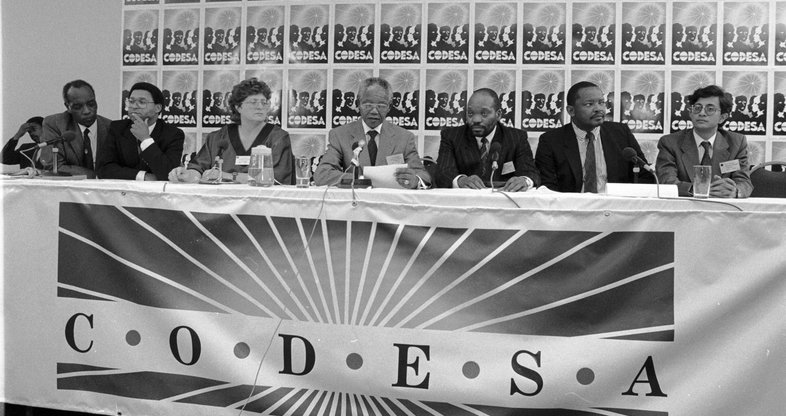 © Eric Miller
ANC Unbanned
From July 1986 Nelson Mandela was in contact with government members, initially with the Minister of Justice Kobie Coetzee, and then with the Minister of Constitutional Development, Gerrit Viljoen. Eventually, he had a meeting with the State President PW Botha in July 1989 at Tuynhuys.
In December 1989 he met the new state president, FW de Klerk. On 2 February 1990, State President De Klerk announced the unbanning of the ANC and other political parties during his opening speech to Parliament.
Mandela was released from prison on 11 February 1990. Mandela immediately addressed mass rallies in Cape Town, Soweto and Durban which drew hundreds of thousands of people.
Lead Up To 1994 Elections
The years leading up to 1994 were very busy. Nelson Mandela travelled South Africa and parts of the World, meeting up with important members of government and the ANC.
He started with a trip to Lusaka to meet the ANC's Executive Committee in March 1990. Mandela then visited the ANC President - Oliver Tambo in Sweden but had to end the trip early with the growing unrest within South Africa. In May 1990, Mandela headed the ANC delegation, which held talks with South African government representatives at Groote Schuur.
In June, Mandela embarked on his six-week tour of Europe, the United Kingdom, North America and Africa. He received recognition wherever he went. During 1992, Mandela continued his programme of extensive international travel, visiting Tunisia, Libya and Morocco.
He and the State President - FW De Klerk jointly accepted the Unesco Houphouet-Boigny Peace Prize in Paris on 3 February. At the same time, the two men attended the World Economic Forum in Davos, Switzerland. On 13 April 1992, Mandela called a press conference at which he stated that he and his wife, Winnie, had agreed to separate as a result of differences, which had arisen between them in recent months.
Record of Understanding Signed
Mandela indicated in September 1992 that he was prepared to meet De Klerk on condition that he would ban the public display of dangerous weapons and release the political prisoners.
They met at the end of the month and these bilateral talks resulted in the signing of a Record of Understanding by the two leaders, which enabled negotiations to be resumed.
Presidential Elections
In September 1993, Mandela visited America and urged world business leaders to lift economic sanctions on South Africa. During the latter half of 1993 and early 1994 Mandela campaigned on behalf of the ANC for the 1994 elections and addressed a large number of rallies and people's forums.
In 1994, the first general elections were held, for all members of the public to vote no matter their race denomination. On 9 May 1994, Mandela was elected as the State President of South Africa. His presidential inauguration took place the next day at the Union Buildings in Pretoria and was attended by the largest gathering of international leaders ever in South Africa.
During his inauguration speech, Mandela called for a 'time of healing' and stated that his government would not allow any sort of discrimination. Mandela promised to create a society in which all South Africans could walk tall without fear.
A Sad Day
In 1999 Mandela retired from active political duty, but he continued to campaign over health and educational issues. Sadly Nelson Mandela passed away on December 5th 2013 at the age of 95.
South Africa and indeed the world mourned the passing of such a generous and courageous man. Through the Nelson Mandela Foundation and the Nelson Mandela Children's Fund Nelson, Mandela's legacy is still ongoing.