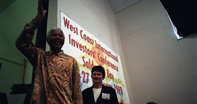 © Eric Miller
Up Before Dawn
President Mandela started his day before dawn at 5:30am — sometimes earlier depending on the demands on him — he made his own bed and then spent 30 minutes exercising.
Whether he was in Cape Town or in Pretoria, he was in his office shortly after 7 am to deal with his mail. Some 50 letters and 45 telephone calls were received at his office every day, and though 90 per cent of this is fanmail it had to be answered.
The remaining 10 per cent ranged over the concerns of people about the state of the nation and policies that had or were about to be adopted, invitations, requests for his attention for signing autographs or his aid in finding the authors jobs.
Mandela Fanmail
The fanmail was warm and friendly, frequently effusive.
One example sent to his ANC office in Shell House Johannesburg — his aide refused to disclose the name of the sender beyond that it was that of a woman with an Afrikaans name — was
Email to President@ANC.org.za
From: Mrs —
To: The President
Subject: YOU
You are the greatest!!!!!!
Other messages state:
".....baskets of love.'
".....Oops! Sorry about not saying happy birthday …"
"We appreciate all you have done for equality in the world. "
One message from a family in Seattle, Washington, in the United States extended "good wishes" to the President and added, "Hope you will visit when you next come to Seattle".
Most of the messages dealing with the problems of South Africa focused on the violence in the country, a subject which came up time and again. Others dealt with the proposed abortion law and other political questions of the day.
Some messages are wrongly addressed, such as one which criticised President Mandela for attacking gays. It was obviously intended for Zimbabwe's President Robert Mugabe and was duly passed on. All the letters were answered.
Meetings, Briefings and Functions
At 8 am the President's meetings began, with briefings by other ministers or government officials and discussions with members of the public. The morning session ended at 12:45 pm with the midday meal, which frequently was a working lunch.
The President avoided red meat (though when he was on a visit to rural Transkei or other areas where local customs prevail he found himself faced with meat at every meal).
He liked salads and fresh fruit and rejected canned food. His afternoon could be spent in meetings, press conferences or functions and the evening could be more functions, a formal dinner or even a meeting.
His bedtime could be 9:30 or 11 pm depending on his day. He had great energy and capacity for work and had to be constantly cautioned by his medical advisors to pace his activities. On one day when he made the film, "A Day in the Life of the President" for the Weekly Mail TV production unit, he was up before 5 am and jetting out of Umtata Airport in the Transkei at 5:30.
After breakfasting on the plane he began the letter ritual at the Union Buildings at 7:10 am. That day he flew to Cape Town in the late afternoon for an evening function at the Neethlingshof wine estate at Stellenbosch before returning to his home in Houghton, Johannesburg, and bed at 11 pm. It's a schedule that would have incapacitated a younger man.