Defender of the Downtrodden
George Bizos, already well-known as a defender of the downtrodden in apartheid abuses, became famous as part of the team that included the Afrikaner Bram Fischer — a descendant of an Orange Free State Boer President — that defended Mandela in one of the most important court cases of the 20th century, the Rivonia Trial. Broadcast journalist, Debora Patta, reminded Bizos that he is 'widely credited for saving Mandela and his colleagues from the death penalty', and Bizos answered modestly, 'I am given too much credit.'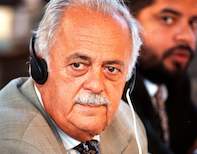 ©Eric Miller
George Bizos.
Prepared to Die
Bizos explained that his concern arose from the content of the historic statement Nelson Mandela made before the sentence was passed. He was worried that the wording might have influenced the judge to give greater consideration to the death penalty. Bizos commented: My only contribution to [the statement] is that when the almost final draft was produced, I was disturbed that he was prepared to die for what he believed in.
And I engaged him in conversation and I said, 'You know, Nelson, that this may be misinterpreted that you are seeking martyrdom. You surely want to live and to enjoy what you stand for and want to come about. Surely, that is what you should say. 'And he worked on the final paragraph but he took my advice to say 'and if needs be, for which I am prepared to die'. That's all my contribution was.
A Democratic and Free Society
As it was eventually delivered in calm, slow, measured tones, Mandela's statement from the dock sounded through the courtroom: I have fought against white domination and I have fought against black domination.
I have cherished the idea of a democratic and free society in which all Persons live together in harmony and with equal opportunities. It is an idea for which I hope to live for and to see realised, but, my Lord, if it needs be, it is an idea for which I am prepared to die.
Path of Great Men
Patta asked, 'Were you gutted when they got life?' And Bizos replied, 'That's strange. It was a relief. Of course, life imprisonment is not a sentence to be happy about. But we were all optimistic that they would not serve it.' In the event, most of them did serve a life term.
Bizos summed up his views of Nelson Mandela and the other freedom fighters he was in contact with in a telling assessment in which he submerged himself into the background.
Asked what he is most proud of, he said: "With having made some contribution in having crossed their path; they are the heroes. Lawyers play a secondary role. In order to be a good lawyer, you need good clients and I have been fortunate to have crossed the path of great men, brave men, unselfish men and women who were prepared to forsake their freedom, prepared to offer their lives for the sake of freedom. And the fact that I was allowed to play a secondary role in their lives is something that I am very proud of."