Volunteer in Chief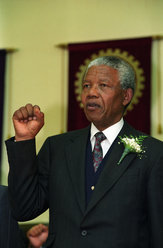 ©Eric Miller
Who is this man who inspires so many? Advocate George Bizos, who has known Mandela for nearly half a century and defended him at the Rivonia Trial in the early 1960s, which resulted in Mandela's 27 years of imprisonment, describes him in those days as 'tall, handsome, well dressed, self confident, a "volunteer-in-chief" taking part in the Defiance Campaign, making speeches in Alexandra Township and in Freedom Square in Soweto'.
Bizos spoke at length about his association with Mandela when he was featured by e-TV's Debora Patta in her Third Degree programme on 5 June 2007. Said Bizos, 'He was a person whom you would respect as an individual and be impressed by his very presence. He was known to be a leader of the ANC Youth League'.
Inculcated by Mandela's Ideas
Debora Patta noted that Bizos in his book Odyssey to Freedom, had described Mandela 'as never resting; he would wear his suit all day long and he was always busy even with the common law prisoners', adding that that conduct continued right throughout his imprisonment. 'Absolutely!' replied Bizos.
'He symbolised the unity of the oppressed people that "we can't afford to have differences between us which the younger people, in particular, were concerned (about) and argued over".' Bizos made a telling point about the conduct of the apartheid government. 'They thought that if they isolated political prisoners on Robben Island that would destroy the movement.
They were so wrong. They really opened the school for freedom fighters because once they had served their term they came out, inculcated by Mandela's ideas and leadership and it was counter-productive for the authorities.'
Friendship with Mandela
Debora Patta asked him, 'What do you value most about your friendship with Mandela?' Bizos replied: Well, he showed me the way in many respects.
His optimism that one day all the people of South Africa would be free, even us whites that we would be freed from the prejudices that we tended to have. His loyalty to friendship, to common people who made sacrifices as he did and his absolute belief that there would be freedom in his lifetime.
Translated by
Nina Joubert