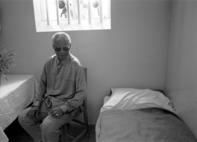 © Eric Miller
Women's Protests Defended
I saw Nelson Mandela at work in the courts in the aftermath of the women's protests against the pass laws in 1959. The requirement that blacks had to carry a pass at all times or face instant arrest was being extended to women: thousands were arrested for expressing their determined opposition.
I was a young journalist on the Rand Daily Mail newspaper learning the trade as a reporter at the magistrates' courts. I already knew Mandela and he told me that mass trials of arrested women were being held in the basement of the building where the holding cells were situated and that the press was excluded from the hearings. This, he and I agreed, was wrong in law.
I went to see the chief magistrate and complained, threatening an application to the Supreme Court. The hearings were immediately opened to the press. From then on, over the next six weeks, I sat in on the trials with Mandela among the lawyers who fought to get the women acquitted or at least get them the lightest possible sentences.
Letters from Robben Island
A decade later, when Mandela was a prisoner on Robben Island, he wrote me a letter. Believing, probably rightly, that the authorities would not let it go through, he addressed it to someone else.
The clue to the intended recipient was hidden in the contents of the letter because he referred to what had occurred in forcing the opening of the magistrates' court cells to the press. The letter was passed from one person to another as they tried to figure out who it was meant for, finally reaching me after several months.