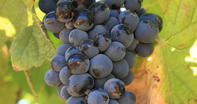 Just as the wildlife industry has the Big Five, the South African wine industry boasts the Big Six, which refers to the cultivars: Pinotage, Shiraz, Cabernet Sauvignon, Merlot, Chardonnay and Sauvignon Blanc.
Jan van Riebeeck planted the first vineyard in South Africa in 1655 and the first wine was made four years later.
On 2 February 1659 he wrote in his diary 'Today, praise be to God, wine was pressed from Cape grapes for the first time.
' Interestingly, Pinotage is the only wine cultivar that originates from South Africa. South Africa Online ® provides factual information on the country's many variants of grapes.